This month, we were delighted to get the chance to host a World of Work tour at one of Sytner's sites once again. Allowing our YES Project participants to get an insight into the different roles that make Porsche Centre Leicester | Sytner Group Limited a great place to work.
It made me aware of the jobs available in a car dealership. The staff are very passionate about the company

YES Project Participant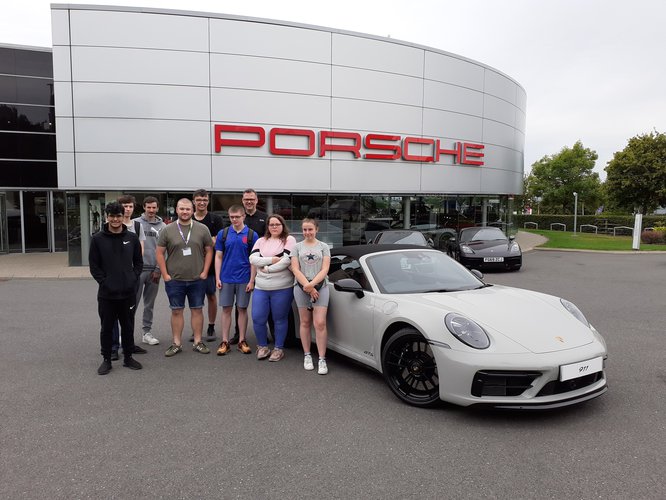 View larger
Sharing advice and knowledge
On arrival, our participants were made to feel extremely welcome and were provided with a complimentary breakfast which was eaten over an informal conversation with the staff at Porsche Leicester, putting the young people at ease straight away. A presentation from Steve Dickinson – Head of Business gave the participants a clear overview of the organisation as well as in-depth information about the different roles that make up the company. The young people who attended the tour were left feeling inspired and curious to explore different roles they hadn't previously thought of, especially after hearing from Callum Whiteside – Marketing Coordinator, Daisy Gillespie – Porsche Pro and Penny Wallace – Central Recruitment Manager. Towards the end of the morning, a Q&A led by the young people gave the opportunity for the participants to learn even more about the specific roles within the industry and what skills they may need to improve or gain to pursue a career.
I found the social media and marketing interesting, and I have never thought about that before

YES Participant
The Tour
After a very informative and upbeat presentation from Steve and the rest of the team, YES participants were itching to get a closer look at some of the cars on display. A Tour of the showroom gave the young people the chance to get up close and personal and even sit in some of the premium cars on display. Also, a view of the workshop in full action inspired some more of our participants who attended with the idea of finding out what goes on under the hood and working in a more manual role. Of course, the highlight of the trip for most participants would have to be getting the chance to sit in a Porsche 911 GTS with the engine running (although personally I most enjoyed the breakfast cob on arrival!) as this even brought the quietest of young people out of their shell and put a huge smile on all of their faces.
Thank you
The team at Leicestershire Cares would once again like to say a huge thank you to Steve and his team for welcoming us to Porsche Leicester but also, to Zaheera Patel – HR Projects Co-ordinator for helping us to plan such an excellent tour with such ease. We are extremely grateful to be able to visit Sytner sites again and we're very much looking forward to the next Sytner Tour in a couple of months time!