Leicestershire Cares works for an inclusive and safe Leicester, Leicestershire and Rutland where nobody is left behind, and all children and young people are supported to reach their full potential. This page will tell you how you can support, donate and raise money to help the work we do.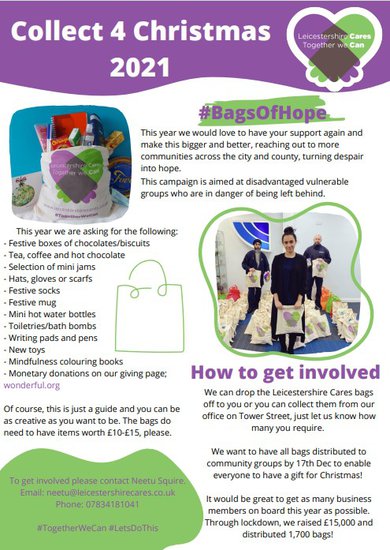 View larger
Collect 4 Christmas 2021 - #bagsofhope
This year we would love to have your support again and make this bigger and better, reaching out to more communities across the city and county, turning despair into hope. This campaign is aimed at disadvantaged vulnerable groups who are in danger of being left behind.
Donate
Click the link to join in and support us with our #bagsofhope.
Donate, fundraise or donate your stuff
You can donate to us as a one off payment, fundraise for us and even donate your stuff. Click the link below to make a one off donation.