The Unlocking Potential (UP) Project supports young people aged 16-25 who are ex-offenders, current offenders or at risk of offending. It offers holistic support to address social, practical, economical and emotional issues which prevent young people from accessing education, employment or training.
Programme Details
The UP Project can help young people to:
Improve employability skills
Access training opportunities
Learn how to disclose a conviction to a potential employer
Gain work experience
Find a job
Increase confidence and motivation
Increase self-esteem
Reduce reoffending
We have strong partnerships in place with other local services which means we can also support you to:
Improve mental health and wellbeing
Obtain accommodation support
Address drug and alcohol misuse
Reduce social isolation
Improve financial position
Increase awareness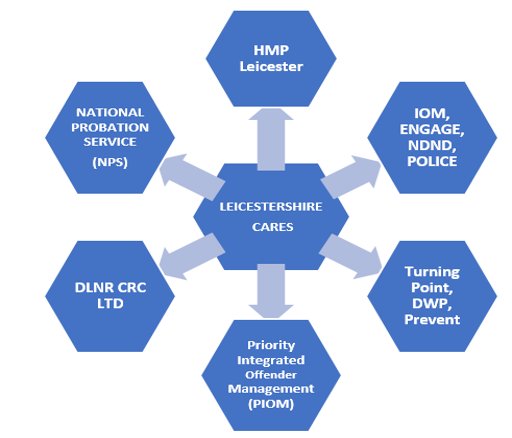 View larger
Referrals
To join, young people must:
Be committed and motivated
Not want to re-offend
Have no drug or alcohol issues that affect their ability to engage in the programme
Be between the age of 16-25
Referrals are made by the following organisations, but we welcome enquiries from anyone who supports young people who meet the criteria for the project:
Disclosure Guidance
Please see the following documents for guidance on disclosure
The UP Project's Disclosure Guidance: Disclosure Guidance
Disclosure Statement - Example: Disclosure Statement Example
Unlock - What will be filtered by the DBS? : What will be filtered by the DBS?
Unlock - A-Z of specific job roles and level of DBS check: A-Z of specific job roles and level of DBS check
Unlock - Is it spent? : Is it spent?
Contact details
To find out more about the UP Project or to make a referral, please contact Siobhan Hirrell:Email: siobhan@leicestershirecares.co.uk | Phone: 0776 151 5130 | Referral Form: The UP Project Referral Form |Flyer:The UP Project Flyer