Today, young people from YES, Powering Up, VIP and We Discover projects had the amazing opportunity to go on another work tour organised by the Sytner Group at their Bentley and Lamborghini Dealership.
Don`t let your circumstances stop you from going for what you want, there is always a way around it

Sean Cook, Head of Business, talking to young people about persevering through their barriers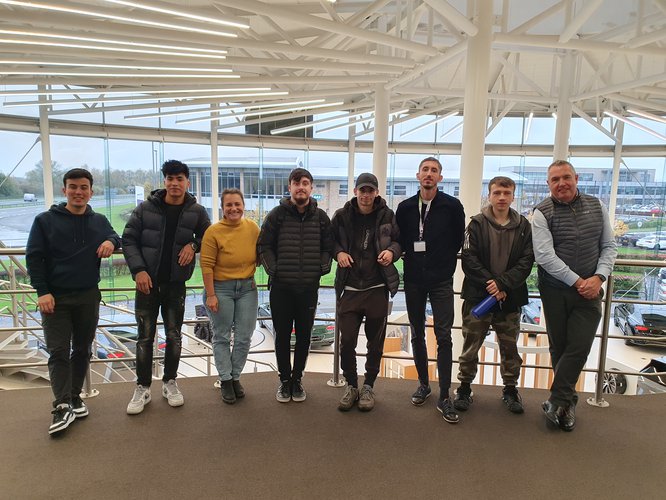 View larger
An inspiring introduction
We were privileged to hear from Sean Cook – Head of Business, about his own journey into the industry and what personal qualities are important in the fight for your ideal job.
Sean offered a background in the company and the site as well as the departments and structure. He spoke about the pathways into each role available as well as career progression opportunities.
The young people were inspired to learn about the brand`s commitment to their staff and customers and the extraordinary high standards the site delivers their work.
There was a lot of learning our participants have drawn from the experience, from what it takes to run a dealership, to the importance of punctuality and having high standards in whatever job they choose.
Sean`s passion for the brand shone through his presentation as he captured his audience with a wealth of fun facts and amazing stories of many valuable team members that have started through apprenticeships and hard work.
It was my first time sitting in a Lamborghini and that meant so much to me

Powering Up Participant
Acknowledgements
The team at Leicestershire Cares would like to send huge thanks to Francesca Summers, the LC Champion and Sytner`s HR Project Manager as well as Zaheera Patel, HR Project Co-ordinator. Thank you for opening the door for our young people into an industry they would, otherwise, possibly not have had access to. Thank you to Sean Cook who kept the young people engaged and hooked for 2 hours – even those that struggle to sit still for that long.
Last but not least, thank you to the wonderful team at Bentley and Lamborghini for the attention to detail, making us feel so welcome and the little gifts for the young people