Central to our "Power to Change" approach is our commitment to working in partnership with a wide range of local stakeholders and young people, to develop initiatives and projects that offer young people and the wider community opportunities to develop new skills.
So, we have been delighted to partner recently with the Leicestershire Police, along with the Gurudwara Shri Guru Dashmesh Sahib in Rushey Mead and the GNG Gurdwara Nine Holy Bones in the city centre.
We, the committee at Gurudwara Shri Guru Dashmesh Sahib, would like to thank PC Kuljinder Singh Lally of Leicestershire Police and Neetu Squire, Head of Community Development for Leicestershire Cares. With their help, yoga mats were donated, which has enabled us to set up a very successful ladies only yoga session, as well as boxing gloves that are being used in all our boxing classes. Thank you!

Jarnail Singh, President at Gurudwara Shri Guru Dashmesh Sahib
The Gurdwaras, places of worship for the local Sikh community, decided to set up boxing and yoga groups to create a safe, welcoming space that can help overcome isolation and loneliness, as well as enable local participants to improve their fitness and wellbeing and learn new skills.
The feedback that I have received has been very positive, and from the Police perspective it's definitely made engaging with the communities easier on a grass root level. This will also increase opportunities for further engagement. This also highlights the great partnership approach conducted by Neetu Squire from Leicestershire Cares – she is really an asset to the organisation.

PC Kuljinder Singh Lally, Leicestershire Police
It was great to partner with PC Kuljinder Singh Lally of the Leicestershire Police, whose relationship with the Gurdwaras meant he was able to open doors and help us build trust with community leaders so we could work in partnership.
After an initial meeting, we agreed to support the Gurdwaras by sponsoring a new batch of sporting equipment for them to use in training sessions. We joined PC Lally in delivering the sporting equipment to the Gurdwaras, where we could "feel" how important and needed this support was. We look forward to exploring how we can build on this support, for example we might be seeking to provide the young people with employability support or opportunities to feed into local decision making.
A huge thank you to PC Lally for your kind words and for supporting and trusting me to reach out to the Sikh communities. Thank you also for the fantastic work you have already achieved and developed. I look forward to collaborating further in the future.

Neetu Squire, Head of Community Development at Leicestershire Cares
The Community Development Team are proud to have partnered with the Leicestershire Police to support a grassroots initiative that helps build a safer, more inclusive Leicestershire where no one is left behind. We look forward to collaborating again in future and continuing our work to create new relationships between community groups, businesses, local authorities, and other organisations that can make a lasting positive difference in communities throughout the city and county.
#TogetherWeCan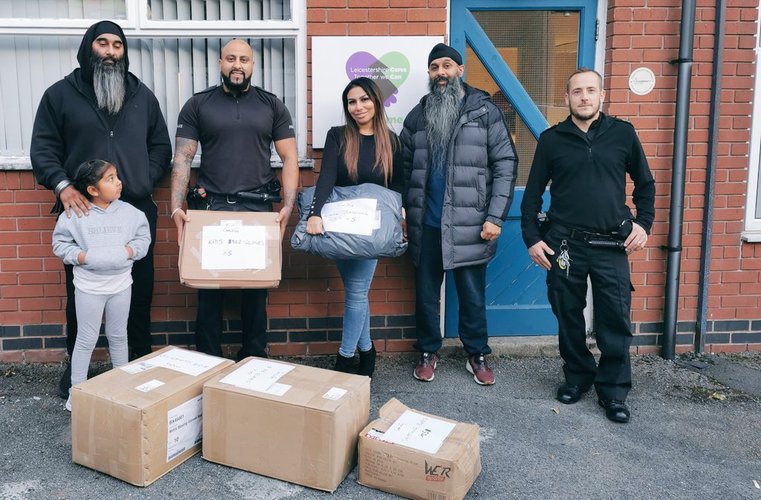 View larger
For more information about getting involved in our Community Development Work please contact:
Email: Neetu@Leicestershirecares.co.uk
Tel: 07834 181041