Our Community Development Team are now launching their #BagsOfHope campaign for 2022, aiming to deliver bags of festive treats to communities in danger of being left behind.
This simple yet effective campaign gives businesses and our partner organisations the opportunity to make a real positive difference in people's lives, filling bags with seasonal goodies and essential items that will bring some joy and cheer to communities across the city and county.
It is great to partner with Leicestershire Cares and to see what can be achieved, when businesses, community groups, and the public sector work together. These bags will give much needed help and support to the women fleeing domestic violence who use our services.

Staff Member at Zinthiya Trust
This year, we are asking for:
Festive boxes of chocolates/biscuits
Tea, coffee, and hot chocolate
Selection of mini jams
Hats, gloves, scarves
Festive socks
Festive mugs
Mini hot water bottles
Toiletries/bath bombs
Writing pads or pens
Mindfulness colouring books
LED Lightbulbs and solar-powered/hand-powered flashlights/torches
Flasks/thermoses
Donations on our giving page at wonderful.org
This list is only meant to serve as a guide – we welcome participants in the #BagsOfHope campaign to be as creative as they like! Please just remember that bags need to contain items with a value totalling £10-15.
When I got my bag, it was a real boost. It made me think people cared and I was not alone.

Young Care Leaver
You can pick up as many bags as you need straight from our office. Alternatively, we can deliver them to you – just let us know how many you need.
We want all empty bags picked up by participating organisations by Friday 25th November, so we can distribute them to community groups by Friday 9th December and everyone can have a treat for the festive season!
It is great to be able to step up and support the community. It's not only good for the communities we support but a real boost for our team morale.

Nylacast
Last year, the #BagsOfHope Campaign achieved:
1241 bags delivered
All with a value totalling £18,615
Reaching 57 communities across the city and county
With the support of 27 businesses and partner organisations and with 146 individuals taking part
It's always a privilege to come together with so many organisations who are eager to support vulnerable and disadvantaged communities during the festive season. We are so grateful for the effort and generosity that our businesses and partner organisations consistently show to help us reach as many communities as possible, and we are looking forward to working together and having a positive impact again this year.

Neetu Squire, Head of Community Development at Leicestershire Cares
The Community Development Team are looking forward to partnering up once again with businesses and our partner organisations from across Leicestershire to support vulnerable and disadvantaged communities. Together, we can make this year's #BagsOfHope campaign our most successful so far and ensure that no one is left behind during the festive season.
#TogetherWeCan
For more information about getting involved in our Community Development Work please contact:
Email: Neetu@Leicestershirecares.co.uk
Tel: 07834 181041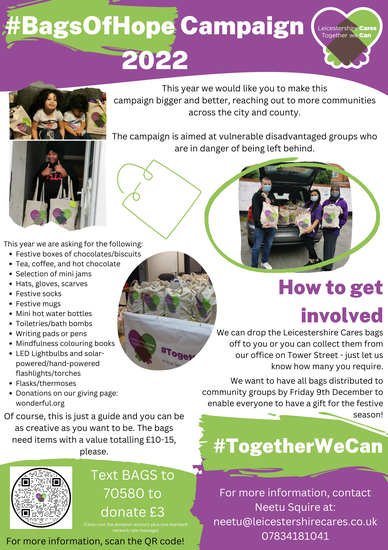 View larger