Leicestershire Cares are looking for professionals to volunteer and become a mentor for a care experienced young person.
Leicestershire Cares works with care experienced young people to provide them with a holistic support to enable them to achieve positive outcomes in their lives, from employment and training, reduction of social isolation, increased stability and having their voices heard.A volunteer Mentor will be a 'critical friend' and a positive role model, who is there to guide and advise care experienced young people to help them find solutions to the barriers that are impacting them and to help them achieve their potential.Many young people face numerous challenges when they transition out of care. They may face financial challenges, relationship difficulties, low self-esteem, difficulties in finding work, and much more.A Mentor can motivate and assist a care experienced young person, develop their confidence and skills required to live independently, support them looking for employment or training or just be an ear to listen.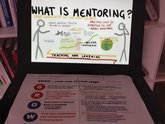 View larger
Why be a Mentor?
Make a difference in the life of a young person in your community.
Learn about yourself, personal growth.
Improve communication and personal skills.
Develop leadership and management qualities.
Reinforce your own study skills and knowledge of your subject(s)
Increase your confidence and motivation.
Engage in a volunteering opportunity, valued by employers.
Enhance your CV.
Have fun!
What we are looking for
Mentors to commit for 6 months
To meet with a mentee approximately two times per month and for approximately one hour per meeting. 12 hours in total
A commitment to the duration of the mentoring programme
Mentors will receive training in mentoring, including training in care experienced issues and safeguarding.
Mentor for motivation, mentor for finding employment, mentor for an ear to listen, mentor for the supporting life skills.
Apply to be a mentor
If you are interested in becoming a mentor for our April cohort, please read our job description for the role and complete the Expression of Interest, and send it back to aidan@leicestershirecares.co.ukA enhanced DBS check will be carried out on all mentors before they first meet a mentee.
For more information: aidan@leicestershirecares.co.uk / 07748932386
Want to know more about care experienced young people?
Find out about the work we do with care experienced young people: mental wellbeing, employment and training, campaigning for Care Leavers rights, building social connection.
Sign our Promise to Care
Hear the voices of care experienced young people in our Podcasts
Taking Hold of Our Heritage
For more information about our Voices project and work with care experienced young people, please contact aidan@leicestershirecares.co.uk