Last Thursday, the Community Development Team attended Leicestershire Cares' Champions Lunch, an event held every six months to strengthen ties between our business partners and staff, reflect and share learning on our work, and celebrate our achievements together.
Following a networking buffet lunch boasting a range of delicious food, our business members made their way to Leicestershire Cares' main downstairs meeting room for a series of awards and presentations.
The Head of Community Development Neetu Squire presented several "Golden Heart" awards to business members who graciously donated to the Community Development Team's "Eggstravaganza" in April. The campaign delivered a grand total of 1165 eggs to 31 community groups across city and county so they could serve as a seasonal treat for many children, young people, and families who are in fear of being left behind.
We would like to say a big thank you once again to all our nominated Champions who supported the Eggstravaganza campaign:
Carla Loughrey from the Hinckley and Rugby Building Society
Kulwant Kaur from Thermo Fisher Scientific UK
Tracy Renshaw from Walker & Son
Jenny Griffiths from Everards Brewery
Kellie Lee from Cambridge & Counties Bank
Francesca Summers from Sytner Leicester
Stacey Lock from the National Merchant Buying Society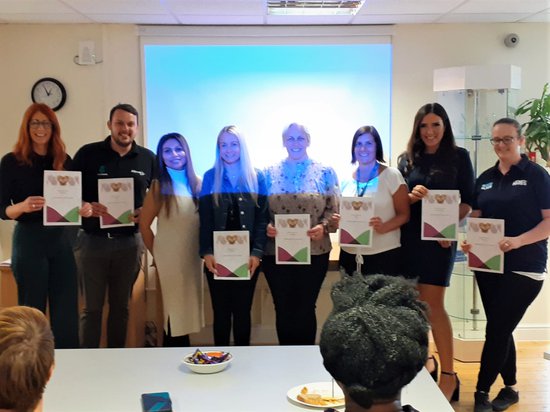 View larger
It's always great to see our business members for the Champions Lunch so we can stay connected and continue collaborating on projects that make a difference in our communities. A huge thank you to all our business partners who supported the Eggstravaganza campaign and who are supporting all our projects across the city and county!

Neetu Squire, Head of Community Development
The Community Development Team then delivered a presentation outlining to business partners our current projects and the ways that they can our work.
For the "Power to Change" project, which supports disadvantaged young people to develop soft and hard skills, networks, and connections through initiatives such as sports courses and sessions in barbering training, suggestions included businesses sponsoring a sports uniform for young people, providing sporting and barbering equipment, or sponsoring activities and events.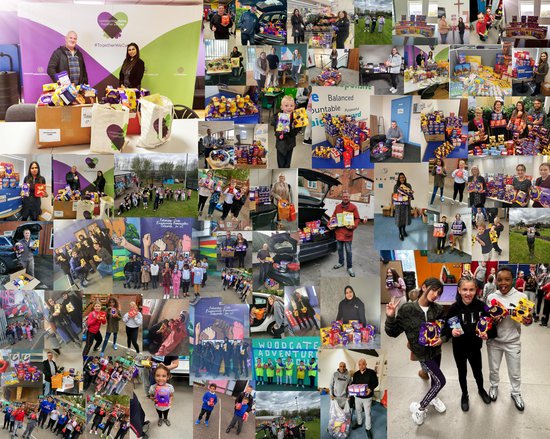 Meanwhile, for the "Making Moves" project, which provides advice and guidance to 16–25-year-olds who are vulnerably housed or at risk of homelessness, it was suggested that businesses could donate resources for home starter packs containing basic household goods, donate shop vouchers to purchase basic essential clothing, or volunteer to provide practical DIY help around young people's new accommodation.
The Community Development Team looks forward to continuing to broker collaborative projects between businesses and community groups in order to deliver vital services to our communities. We would like to express our enormous gratitude to our business partners whose generous support enables us to develop projects that build a safer, more inclusive Leicestershire where no one is left behind.
#TogetherWeCan
For more information about getting involved in our Community Development Work please contact:
Email: Neetu@Leicestershirecares.co.uk
Tel: 07834 181041