On Saturday 10th September, the Community Development Team joined a team of volunteers from Walker & Son for a Team Challenge at Christ-the-King Church in Beaumont Leys, Leicester.
Christ-the-King is a Church of England community church that serves as a vital hub for the residents of Beaumont Leys. On top of its religious services, it supports and uplifts vulnerable and disadvantaged members of the community by running a food bank and helps local families in providing a preschool.
Volunteers from Walker & Son came braced for a busy day spent revamping the Church garden, used as a welcoming outdoor space where children from the preschool can enjoy themselves in safety and comfort.
Sadly, over the years, our garden became not fit for purpose – the grass was worn away, it was dismal and tired in appearance. So it was fortunate that Leicestershire Cares came along and chose our garden for the Team Challenge programme. Walker & Son's volunteer team revamped our tired garden, and what a fantastic job they did! We have new artificial grass, and it's amazing to see the children rolling around and having fun. The garden has come to life with some great bright painted colours and beautiful new plants. We at Christ-the-King Church want to say a big thank you to Leicestershire Cares and Walker & Son for the Team Challenge. You have made a huge difference and have made it possible for the children at the preschool to have a fun play time. Thank you all!

Catherine Wray, Director at Christ-the-King Church
The Walker & Son team quickly got stuck in and set to work laying down new AstroTurf, setting up a canopy shelter, repainting the garden fencing and shed, and raising the garden flower beds.
By the afternoon, the garden was looking fresh, vibrant, and revitalised, gaining some new colour and convenient features that would help it to serve as an appealing environment for young people.
We were delighted to be able to bring the garden at the Christ-the-King Church back to life for the community. My colleagues and I were made really welcome by the church and we all left feeling really humbled by the amazing people that we met and who volunteer for such a great cause. We hope the community groups and the nursery really benefit from what has been done and we want to continue to build an ongoing relationship with the church.

Tracy Renshaw, Communications and Engagement Partner at Walker & Son
The Community Development Team looks forward to making future collaborations with businesses in order to support community groups that deliver vital services throughout Leicestershire. We would like to take the time to express our enormous gratitude to all our business partners whose generous support enables us to develop projects that build a safer, more inclusive Leicestershire where no one is left behind.
#TogetherWeCan
The Christ-the-King gardens have really benefited from the work Walker & Son put in! The fresh paintwork on the fencing looks amazing and I know the church will appreciate how much lower-maintenance it will be with the AstroTurf installed. Thank you so much to Walker & Son for the fantastic job they did on this Team Challenge!

Neetu Squire, Head of Community Development at Leicestershire Cares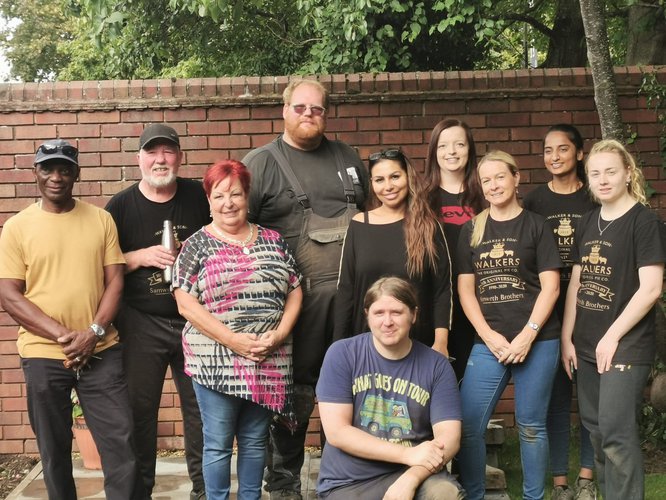 View larger
For more information about getting involved in our Community Development Work please contact:
Email: Neetu@Leicestershirecares.co.uk
Tel: 07834 181041