On Thursday 22nd September, the Community Development Team joined a team of volunteers from Walkers Sausage Co. for a Team Challenge at the SpiritAtPlay horse refuge and therapy centre at Illston on the Hill, outside Leicester City.
SpiritAtPlay serves as a refuge for a number of horses rescued from poor living situations, including racehorses who would otherwise be put down. The volunteers operating SpiritAtPlay have carefully trained them to serve as "Therapy Horses", comfortable with spending time with visitors who can pet them in a peaceful and calm environment. This experience helps boost the self-esteem, confidence, and tolerance of SpiritAtPlay service-users facing problems with mental and emotional wellbeing.
All of us at SpiritAtPlay want to thank the Walkers Sausage Co. team who came and painted our buildings. They were so kind, polite, and professional in their work! The painting of the shelters helped us so much to keep our centre looking professional and helped to preserve the woodwork, so now the horses have somewhere safe and secure to go out of bad weather. The final surprise was a wonderful sign for our gate which, again, was very professional! We can't thank those wonderful people who helped us so much.

Judith Edwards, Project Manager at SpiritAtPlay
As the main log cabin and horse shelters on site have seen their paintwork worn away over the years by the elements, volunteers from Walkers Sausage Co. graciously gave their time to spend the day repainting the buildings a beautiful, strong Sherwood Green.
Fuelled and motivated by the picturesque views of the surrounding Illston country landscapes, some quality time spent getting to know the SpiritAtPlay horses, and a few tasty mugs of tea, the Walkers Sausage Co. team were able to completely restore the exteriors of the SpiritAtPlay buildings by the early afternoon.
We had the most amazing day helping to transform stables and surrounding areas for SpiritAtPlay, a charity whose work supporting children and adults to improve their mental and emotional wellbeing is incredibly admirable. Really proud of what we achieved as a team, and we hope it will make a huge difference to everyone using the facilities.

Amit Singh, Factory Manager at Walkers Sausage Co.
Not only that, but the SpiritAtPlay staff were overwhelmed with joy when Walkers Sausage Co. unveiled a surprise donation as part of the Team Challenge: a freshly printed sign for the horse barn entry gate!
The Walkers Sausage Co. really went above and beyond with this Team Challenge! Not only was the paint job they delivered for the SpiritAtPlay buildings top-notch, but to also put together the new entry sign was extremely generous. We are so grateful to Walkers Sausage Co. for going the extra mile to help make a difference in our community. Thank you!

Neetu Squire, Head of Community Development at Leicestershire Cares
The Community Development Team looks forward to establishing future collaborative projects with businesses and community groups who deliver vital services throughout Leicestershire. We would like to take the time to express our enormous gratitude to all our business partners whose generous support enables us to deliver programmes that help build a safer, more inclusive Leicestershire where no one is left behind and where everyone is empowered to realise their full potential.
#TogetherWeCan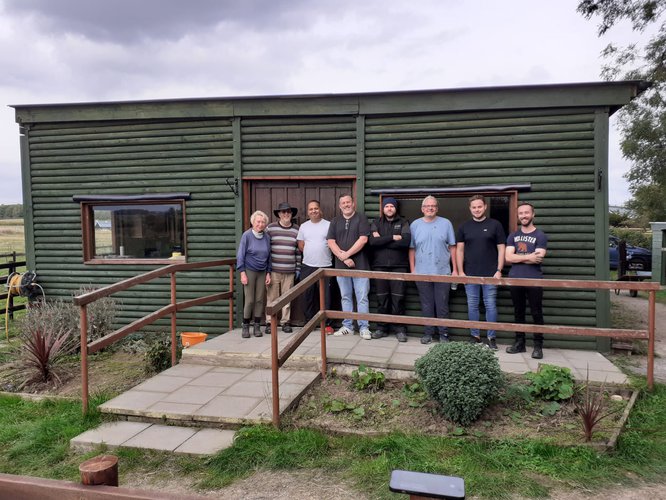 View larger
For more information about getting involved in our Community Development Work please contact:
Email: Neetu@Leicestershirecares.co.uk
Tel: 07834 181041