Last Wednesday, the Community Development Team joined a volunteer team from Thermo Fisher Scientific UK for a Team Challenge at the Gorse Covert Community Centre in Loughborough.
We have been so lucky to have support from Thermo Fisher Scientific UK through the Leicestershire Cares Community Development Team. The time I spent with the volunteers was great, they were all really motivated and helped solve lots of problems throughout the day. The Gorse Covert team are so thankful for their help in restoring our garden and making it a welcoming community space again. We're now looking forward to getting stuck in before the winter comes!

Emily Clews, Activities Co-ordinator at Gorse Covert Community Centre
The Gorse Covert Community Centre is a popular venue for a range of activities, programmes, and events that benefit the Loughborough town community. Offering several comfortable indoor function rooms, a friendly and welcoming community coffee bar, and an enclosed, accessible rear garden, the Community Centre serves as a host for a weekend Kids Club, as well as training sessions, meetings, networking events, health and wellbeing classes, and art events delivered by local businesses, clubs, and organisations.
A team of volunteers from Thermo Fisher Scientific UK arrived bright and early to tidy and revamp the Community Centre garden.
It was a real pleasure to help out at the Gorse Covert Community Centre. From our time there, it's clear that this is a well-loved and used community asset and it was great to talk to some of the users on the day. Our hope is that we have now created a colourful space for gardening that is accessible for all users of the centre. Our team had an excellent day and we hope that we have had a positive impact.

James Fuller, Account Creation & Maintenance Associate at Thermo Fisher Scientific UK
By the early afternoon, they had installed new raised plant beds, repainted the garden sheds in a vibrant cornflower blue, weeded the flower beds, cleared away the debris of a recently cut-down tree, and installed a new area of stone paving to help make the garden more accessible to wheelchair users.
The Gorse Covert Community Centre garden's fresh and clear new look will make it even more welcoming and enjoyable as a space for members of the local community. This positive impact is testament to the success of the Community Development Team's use of Leicestershire Cares' "Power To Change" model. We work to establish and strengthen partnerships between businesses, community groups, and service-providers who can support one another in delivering lasting change to our local communities.
The Thermo Fisher Scientific team did a fantastic job on this Team Challenge! It's great to see that the Gorse Covert garden has been kept an accessible and welcoming space. This project will surely benefit so many people in the local community. Thank you to everyone at Thermo Fisher Scientific who worked to make this happen!

Neetu Squire, Head of Community Development at Leicestershire Cares
The Community Development Team looks forward to brokering further collaborations between businesses and community groups through the Team Challenges programme so that we can support projects that help to build a safer, more inclusive Leicestershire where no one is left behind. We would like to thank all our business partners whose generous support makes this amazing programme possible.
#TogetherWeCan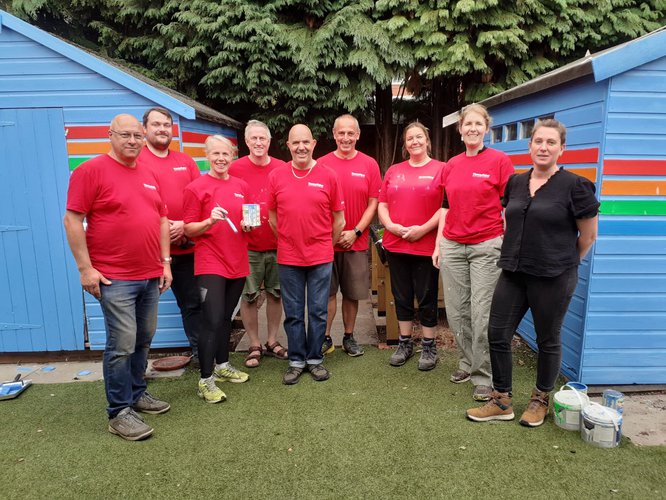 View larger
For more information about getting involved in our Community Development Work please contact:
Email: Neetu@Leicestershirecares.co.uk
Tel: 07834 181041