On Wednesday 31st August, the Community Development Team joined a group of volunteers from the National Lottery Community Fund for a Team Challenge at the Manor House Community Centre in Leicester City.
The Community Centre serves as a venue for a variety of classes, programmes, and events, including day care services, youth provision, a weekly senior citizens lunch club, and a food bank.
We are very pleased with the work carried out by the group, the painting of the fences around the grounds makes them look 100% better. Also it will protect them for years to come and mean the wood will last longer. The team where extremely easy to work with and brought everything they needed to carry out the task that day. And they seemed keen to come back and get involved in more stuff in the future here at the community centre!

David Kerwin, CEO of Manor House Community Centre
A team of six volunteers arrived bright and early on a beautiful, late-summer morning to repaint the wooden fencing in the Community Centre gardens. Nothing like a bit of outdoor DIY on a sunny day!
With spirits kept high by a few tasty mugs of tea and the supportive presence of team leader Oliver Savage's dog Theo, the volunteer team were able to restore the fencing and give the Manor House gardens a revitalized look.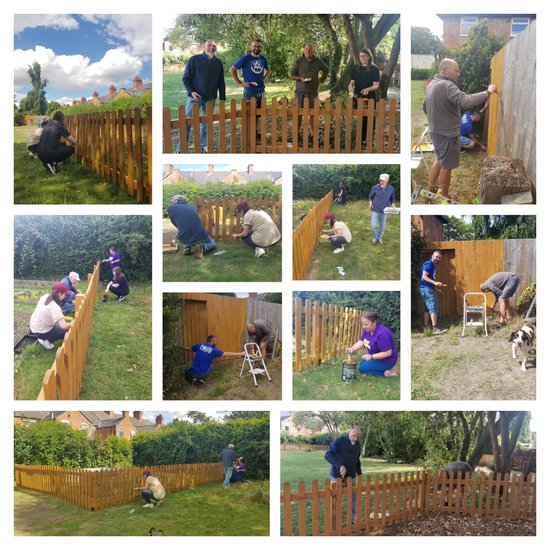 View larger
Our local funding team had an excellent day at Manor House. It was great for team morale! Spending time together on a non-work task, sharing stories, knowledge and laughter was so refreshing. So was getting the opportunity for the Team to do something practical for a community organisation, where normally we would be assessing an application, felt very appropriate. Thanks to all at Leicestershire Cares and Manor House for making this possible.

Oliver Savage, Funding Officer at the National Lottery Community Fund
The National Lottery Community Fund is a non-departmental public body that works to distribute funds raised by the National Lottery to good causes across the UK. In October 2020, the Fund generously provided the Community Development Team with a grant to expand our work in building relationships and networks with community groups and business members across the city and county, including through Team Challenges, our Bags of Hope campaign, our Spring Eggstravaganza campaign, and more.
These projects have all been central to the Community Development Team's work in implementing our "Power To Change" model. We endeavour to form and to strengthen collaborative networks of businesses, community groups, and service-providers who can support one another's work in delivering lasting positive change in the lives of vulnerable and marginalised people.
The Team Challenge was a fantastic success! The gardens look terrific now that the fencing has been given some fresh paintwork. I'd like to say a huge thank you to Oliver and everyone and the National Lottery Community Fund, not just for volunteering on this Team Challenge, but for the generous financial support they have provided that enables us to carry out projects like these.

Neetu Squire, Head of Community Development at Leicestershire Cares
The Community Development Team would like to say a huge thank you to the National Lottery Community Fund, both for graciously providing volunteers for our Team Challenge at Manor House, and for the support they have given our entire team through their invaluable funding. We look forward to developing future initiatives that build a safer, more inclusive Leicestershire where no one is left behind.
#TogetherWeCan
For more information about getting involved in our Community Development Work please contact:
Email: Neetu@Leicestershirecares.co.uk
Tel: 07834 181041