Last Tuesday, the Community Development Team's Project Support Officer Edgar Roberts and Head of Community Development Neetu Squire visited the Manor House Community Centre in Leicester City for a Team Challenge.
The Community Centre provides a venue for a variety of classes, programmes, and events, including day care services, youth provision, a weekly senior citizens lunch club, and a food bank.
A team of nine volunteers from Leicestershire Cares' business partner Everards Brewery arrived bright and early for the Team Challenge. Armed with several gallons of paint, some fresh drop cloths, a bit of elbow grease, and a portable radio to keep the energy alive, redecorated the classroom by the afternoon. The paint job breathed new life into the learning space and helped the Manor House Community Centre in serving as a welcoming place for young people and community groups.
The room is much brighter and fresher and will make a huge different to the different group that use the room and the people we support. Really grateful to Leicestershire Cares for getting onboard and looking to improve the community centre!

David Kerwin, CEO of Manor House Community Centre
Our Team Challenges put into action Leicestershire Cares' "Power To Change" model. In our community development work, we endeavour to form and to strengthen collaborative networks of businesses, community groups, and service-providers who can support one another's work in delivering lasting positive change in the lives of vulnerable and marginalised people.
It was great seeing the final results of the redecorating job. The groups that attend Manor House will definitely benefit from having a fresh and attractive working space. A big thank you as a always to our business partners who enable us to carry out projects like these.

Neetu Squire, Head of Community Development
The Community Development Team looks forward to brokering further collaborations between businesses and community groups through the Team Challenges programme so that we can support projects that help to build a safer, more inclusive Leicestershire where no one is left behind. We would like to thank all our business partners whose generous support makes this amazing programme possible.
#TogetherWeCan
The whole team were extremely excited to take part in the challenge and we were so pleased to have so many volunteers from all over the business wanting to take part and help the local community. From the day we first viewed the room at Manor House with Neetu and David, right through to when we finished redecorating the room, we could see how much of a difference this would make to the local community and how thankful both the team at Leicestershire Cares and at Manor House Community Centre were for our help. We all had a really fun day decorating the community centre and were actually quite impressed with our skills by the end of the day! The team at Everards can't wait to take part in our next community challenge, so much so that we've already had people put their names forward without knowing what the challenge will be!

Abbie Liquorish, Office Coordinator at Everards Brewery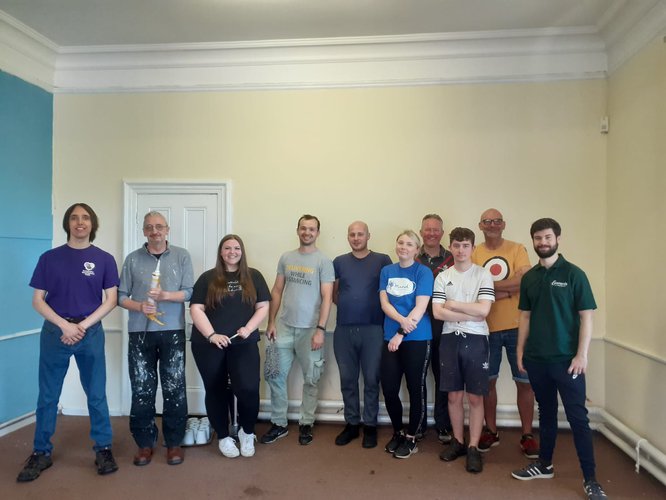 View larger
For more information about getting involved in our Community Development Work please contact:
Email: Neetu@Leicestershirecares.co.uk
Tel: 07834 181041