View larger
On Thursday 16th June, the Community Development Team's Project Support Officer Edgar Roberts and Head of Community Development Neetu Squire attended the "Lives Not Knives" knife crime awareness workshop at Judgemeadow Community College.
The event, organised by the Leicestershire Police, brought together police representatives, community groups, and members of the public for an evening of presentations, discussion, and networking dealing with the issue of knife crime committed by young people in Leicester City.
Attending the workshop was an excellent opportunity for the Community Development Team to gain valuable insight that could inform their implementation of Leicestershire Cares' "Power To Change" model. The model emphasises the needs to understand the complex nature of the problems young people face and to form collaborative networks that can empower them to make a lasting positive change in their lives.
Within their presentations, officers from the Leicestershire Police discussed topics such as the complex reasons young people become engaged in knife crime, including gang culture, peer pressure, and a "fear factor" as the spread of illegal knives in a community encourages further people to obtain them for self-protection.
The Leicestershire Police also discussed the accomplishments of their involvement in "Operation Sceptre", a week-long national campaign aimed at tackling knife crime that took place in May this year. The campaign saw the police take such measures as delivering awareness workshops in schools, setting up knife arches in key locations, and making test purchases at shops to ensure they do not sell knives to people under the age of 18.
In the discussions among community members, a recurring point of view was that it is everyone's responsibility to prevent young people from becoming involved in knife crime. From the police, to parents, teachers, mental health professionals, and social workers, everyone can and should work to create a safer community environment for young people.
Many of the groups attending the workshop are members of the "Violence Reduction Network", an alliance of organisations working in partnership with the Leicestershire Police that aims to reduce rates of serious violence across the county. Earlier this year, the Network commissioned Leicestershire Cares to help form the "Violence Intervention Project", an initiative which prevents young people from involvement in violent crime through sessions on employability, skills-building, and mentoring with businesses.
In addition, Leicestershire Cares has extensive experience working with young people on youth justice issues through the Unlocking Potential (UP) project. Last year, several of the young people who participate in UP Project sessions produced a video to raise awareness of knife crime.
The workshop was incredibly thought-provoking and insightful. We're really glad to be participating in this difficult but vital dialogue on such an urgent issue in Leicester City and beyond. I am certain that, by working together, we can eliminate serious violence and make our communities a safe environment for young people to thrive and develop.

Neetu Squire, Head of Community Development
The Community Development Team is proud of its work collaborating with businesses, community groups, and the Leicestershire Police in order to make a transformative positive change in the lives of vulnerable young people. We are greatly enthused to see the wider Leicester City community develop a conversation on the pressing issue of knife crime, and we look forward to building and strengthening our relationships with partners from across city and county to help build a safer, more inclusive Leicestershire where no one is left behind.
#TogetherWeCan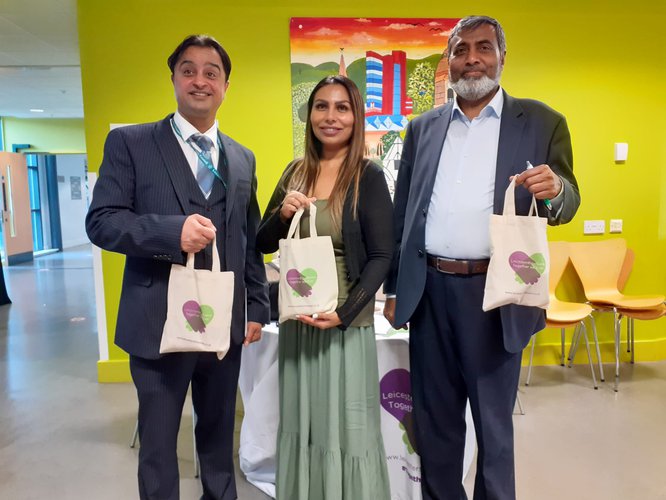 View larger
For more information about getting involved in our Community Development Work please contact:
Email: Neetu@Leicestershirecares.co.uk
Tel: 07834 181041
Our UP Project Lives Not Knives video: