The Community Development Team have had a hugely successful quarter over the winter period, building partnerships between businesses, local authorities, and community groups through our festive campaigns. The "Festive Challenges"campaign helped bring some joy and cheer throughout the city and county, "Toys on the Table" ensured disadvantaged children didn't go without a gift at Christmas, and the #BagsOfHope campaign turned despair into hope in vulnerable communities. Now, with 2023 already underway, the Team are looking forward to partnering up once again with Leicestershire Cares' business partners on projects that make a positive difference in our communities.
Some of our successes:
14 Festive Challenges delivered in collaboration with 9 business partners and 10 community groups, with the participation of 61 volunteers
29 Toys on the Table sessions delivered in partnership with 11 businesses, with a total of 79 volunteers and 197.5 volunteer-hours put in
1108 #BagsOfHope delivered with the support of 24 business members to 34 community groups in the city and county
Delivered 1 Team Challenge in October
Using funding raised by Sytner Group at a charity raffle in the summer of 2022, we were able to purchase sports equipment for the community boxing group "Hari Singh Nalwa Combat Academy" at the Guru Tegh Bahadur Gurdwara in Leicester City, as well as for the Multi Sports Coaching group at the Somali Communities Parents Association (SOCOPA)
Supported FC Belgrave and Cossington FC in applying for funding from the Office of the Police & Crime Commissioner and Violence Reduction Network to support that projects that help eliminate violent crime – both applications were successful!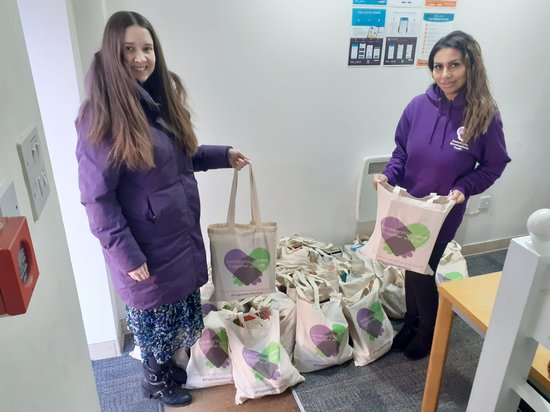 View larger
The Community Development Team have also been finding original ways to work in a creative and agile manner with businesses, community groups, and local authorities. Their "Power to Change" community steering group has continued to grow and develop, giving a voice to representatives from numerous grassroots organisations so we can learn about the complex and interlocking challenges they face. The most recent steering group session featured Leicester City Council Assistant Mayor Danny Myers, creating opportunities for discussion on how local authorities can better partner with the community sector.
The Community Development Team have attended and supported a number of fundraisers, community dinners, festivals, and dialogue events in a number of different communities, including:
2 community group AGMs: Highfields Centre and Reaching People
3 "Conversations with the Police" events, where members of the public could discuss how the Leicestershire Police can better support our communities
5 community celebration events for causes and holidays from a number of faith groups
3 celebratory dinners
3 awards evenings – 2 organised by community groups and another by one of our business partners
1 fundraiser
2 unveiling events, attending alongside local authorities – 1 for a new public monument and 1 for a new local business
Delivered 1 informational stall at the Thurmaston Community Centre, in an event organised by our community group partner "The Adhar Project"
5 informational events, allowing us to reflect on a number of social, political, and faith topics
1 discussion/support group
2 networking events
Discussed opportunities for collaboration and partnership working with our business members at our "Champions Lunch"
It should come as no surprise then that the Community Development Team have received recognition for their hard work from two major awards sponsors!
In October, Head of Community Neetu Squire took home the "Together Award" at BBC Radio Leicester's inaugural "Make a Difference" Awards. Neetu received the Together Award in recognition of her work creating real change by breaking down barriers and bringing people together from different walks of life for a common cause.
In addition, the Community Development Team as a whole struck gold in the "Community Impact" category at the 2022 East Midlands Chamber Business Awards. This category recognises businesses, charities and social enterprises that have made Corporate Social Responsibility a key part of their planning and who have had a demonstrable positive impact on issues within their local community.
On top of all of that, the Team also received a nomination for the "Charity of the Year" award at the Furnley House awards evening, which they were delighted to attend at the Leicestershire County Cricket Club. Go team!
So, what's next? The Community Development Team are already working hard to prepare for our 2023 Team Challenges, which will give our business members the opportunity to give something back and make a positive difference in their communities.
The Community Development Team look forward to brokering further collaborations between businesses and community groups in the future, so that together we can build a safer, more inclusive Leicestershire where no one is left behind. We would like to take the time to express our enormous gratitude to all our business partners whose generous support is what makes our campaigns possible.
#TogetherWeCan
For more information about getting involved in our Community Development Work please contact:
Email: Neetu@Leicestershirecares.co.uk
Tel: 07834 181041
---
We would like to thank the National Lottery Community Fund for backing the work of the Community Development Team. Your support enables us to deliver so many projects and campaigns that make a lasting positive difference in our communities. Thank you!
View larger