The Community Development Team has had a very successful quarter. With the arrival of three new staff members, we were able to expand our activities significantly, developing strong collaborative networks with businesses and communities in order to deliver new projects that can bring about positive change.
Following Leicestershire Cares' three-part "Power to Change" model, we are working to unite business partners and community groups in generating a lasting positive impact on the lives of disadvantaged groups and individuals, creating a safer, more inclusive city and county where no one is left behind.
We want to say a huge thank you to all our business members and partners who helped us in the Eggstravaganza campaign. Without you, we would not have been able to reach and give our support to as many people as we did.

Neetu Squire, Head of Community Development, Leicestershire Cares
Power within
At the Community Development Team, we center our work on the young people and communities we support, helping them to identify and to address the unique, complex set of challenges and problems that they each face. In prioritising the specific needs of these groups, we can put them in a better position to realise positive change in their lives.
To that end:
6 Inclusion and Diversity webinars have been successfully delivered to the team.
7 stakeholders are now qualified in Mental Health First Aid.
Nelsons Solicitors delivered Employment Rights webinar to 13 different community stakeholders.
Our new Homelessness Support Officer Jess Strutt is doing two outreach drop-in sessions at New Parks Community Hub and the Freedom Youth Club
Power with
We take a "social action" approach to community development, working to make the best possible use of relationships, networks, and connections in order to achieve a real, lasting impact. At the heart of Community Development work is coordinating with business partners to assist them in delivering resources to community groups, so they can collaborate on projects that give support to marginalised and disadvantaged groups and young people.
This quarter, we have had enormous success in fostering collaboration between businesses and community groups:
The Easter Campaign is now completed, with 9 business members and 1 partner agency having been involved. 1165 eggs were donated to 31 community groups.
We have identified 5 new community groups in Loughborough and are working to further relationships and conversations on how we could develop our projects.
Close links with Ward Councillors are increasing.
A big thank you to Neetu from Leicestershire Cares for their donation of Easter Eggs to give out to those dropping in to use the food bank.

Arif Voraji, Help the Homeless Leicester
Power to
The culmination of the "Power to Change" approach comes in supporting the young people and communities we work with to develop their skills, connections, and understanding of their local environment so that they can achieve a positive change in their lives.
To foster our "power to":
Cultural Diversity video with Joules is now completed.
We have supported relevant charities to provide a safe space for women.
---
As always at the Community Development Team, we will continue to aim high and excel in generating a safer, more inclusive city and county and in creating lasting positive change in peoples' lives. But, of course, none of this would be possible without the support kindly provided by our businesses and partner agencies. We would like to close our quarterly updates in saying, to all our partnering agencies and businesses, thank you for the time, effort, and resources you have devoted so generously to our community development work.
For more information about getting involved in our Community Development work please contact:
Neetu@Leicestershirecares.co.uk
To learn more about the "Power to Change" approach, please see the following link: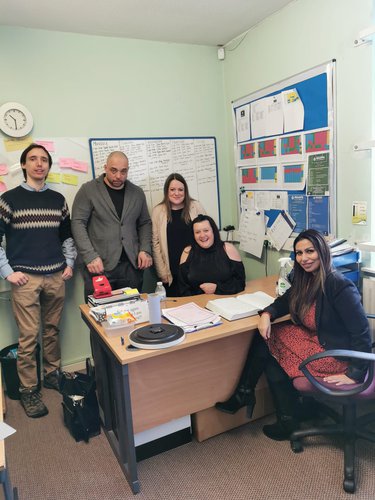 View larger