This month, the Community Development Team at Leicestershire Cares began hosting a six-week "Art 4 Mental Wellbeing" course run by local mental health charity Jamila's Legacy, with the aim of creating a space where attendees can use painting and crafts for therapeutic purposes, free of charge.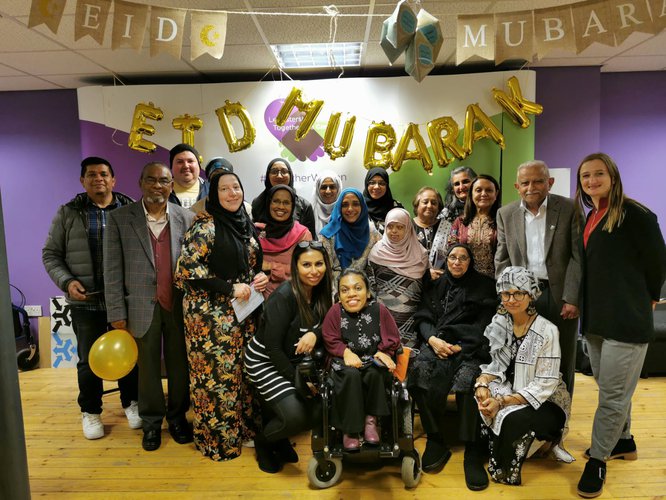 View larger
The Art 4 Mental Wellbeing programme was established off the back of successful art taster sessions held in the past. Now, with the enormously positive reception the programme has received so far, Jamila's Legacy hopes to turn Art 4 Mental Wellbeing into a more permanent venture.
Attendees have found the painting and crafts workshops to be a hugely valuable experience that enables them to boost their confidence and take pride in accomplishing new things. Art 4 Mental Wellbeing also provides attendees with a safe space to share their feelings and experiences, offering a sense of connection and recognition.
We want everyone to have basic mental health knowledge to enable and encourage people to maintain mental wellbeing, seek support when they need it, support others, and normalise mental health conversations. Art 4 Mental Wellbeing is a 6-week art project created to enable people to focus on their mental health and have an outlet to express themselves through art.

Rehana Sidat, Mental Health Advocate and Founder of Jamila's Legacy
Jamila's Legacy was founded in 2015 by Rehena Sidat, a long-running mental health advocate from Leicester City and takes its name from a family friend of Sidat's who died after a long struggle with poor mental health.
Neetu Squire, who is the Head of Community Development at Leicestershire Cares, suggested utilising our building to deliver the workshop sessions in a safe place. We were eager to support a scheme that could meet the needs of community members facing difficulties with mental health and wellbeing.
Mental health is always a taboo subject especially amongst minority groups. We are always told to 'get on with it' when we are struggling. That is why courses such as this are vital, because it empowers participants, and gives them a voice. They might not want to vocalise their trauma or issues, but through art, they are able to tell their story and have an outlet to open up.

Neetu Squire, Head of Community Development at Leicestershire Cares
We anticipate that the remainder of the Art 4 Mental Wellbeing sessions will be just as enormous a success as those held so far. We are looking forward to establishing and strengthening further our partnerships with community groups, including those tackling mental health, to meet the needs of the most vulnerable and ensure that no one is left behind.
#TogetherWeCan
For more information about getting involved in our Community Development Work please contact:
Email: Neetu@Leicestershirecares.co.uk
Tel: 07834 181041