Our Interview Technique project aims to bridge the gap between education and the world of work for Year 10 and 11 students in Leicester, Leicestershire and Rutland. These events give students the fantastic opportunity to have a realistic job interview with a volunteer from one of Leicestershire Cares' business members. After their interview, each student receives valuable feedback from their interviewer as to what they did well and how they could improve.
Our most recent Interview Technique event took place at Crown Hills Community College, where 24 business volunteers interviewed 252 Year 11 students. During the morning, two students who were interested in a career in law were interviewed by solicitors from Knights plc.
Both the students and volunteers found that having similar career interests enhanced their interview experience. The students found it very beneficial to be interviewed by a volunteer in the career they would like to pursue, as they could ask specific questions about their experiences and how to enter the law sector.
It helped me to gain an overview of how I could be interviewed for a job that I would perhaps do in the future, and I was able to ask question specifically relating towards it.

Student, Crown Hills Community College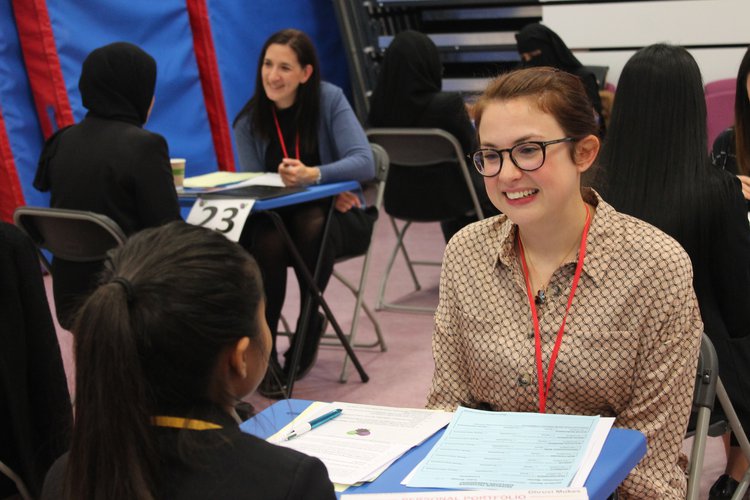 She gave me tips on how to do the job I plan on doing in the future and she told her me her experience of how a courthouse feels.

Student, Crown Hills Community College
The volunteers from Knights plc agreed that they were able to provide more detailed feedback and information to the students and enjoyed speaking to students who wanted to pursue a career in the same field as themselves. They felt that these students benefitted from their knowledge and experience of having a career in law.
It helps to give the student a better idea of what life is like in practice (as opposed to what they may think the job will entail based on what they have seen on telly etc.) It also enables the student to ask more refined questions and for the conversation to progress more fluidly as they are keen to find out more when it is a career that they are interested in.

Volunteer, Knights plc
I was able to discuss ways of gaining experience and I just felt I could be more informative.

Volunteer, Knights plc
If you would like to help students gain valuable experience in interview technique and pass on your knowledge and experience of the workplace, please contact helen@leicestershirecares.co.uk. You can find all of our upcoming Interview Technique events on our website.