A huge thank you for taking the time to support and engage with our young people.

Message to the volunteers from Sarie-Marais Crowcroft, Careers Lead, Keyham Lodge School
On the last day of term before Easter, Year 11 students at Keyham Lodge School in Leicester met with volunteers from business to experience mock interviews. The students were overwhelmingly positive about the experience with 100% of those asked saying they enjoyed the experience.
I'm really pleased at how well it went and the feedback about the students was lovely, especially the ones who don't normally talk much in school. Hopefully they will take something from it and realise how beneficial these things can be.

Sarie-Marais Crowcroft, Careers Lead, Keyham Lodge School
Keyham Lodge School is a vibrant and successful City Special School. All students have an education health care plan and the majority of students have had a disrupted education prior to attending. Because of this, Keyham strives to remove barriers to learning, close attainment gaps and provide an inclusive environment that is child-centred and learning focussed.
With brilliant, supportive volunteers from Everards, Thermo Fisher Scientific, Leicestershire County Council, Kier Construction and Pretty Little Brows, our aim was to try to match volunteer's work experience with areas of interest for the students in order for the students to gain most from the interviews. These were primarily in sectors of construction, beauty and office administration.
It was enjoyable to be paired with students who were interested in working within the industry I work in.

Volunteer from business
All the volunteers rated the event as excellent and would recommend taking part to their colleagues. They also reported improving the following skills:
Coaching, mentoring, motivating others, interviewing, and providing constructive feedback.
Learning really was a two-way process at the event with volunteers commenting on what a positive, inspiring experience it was.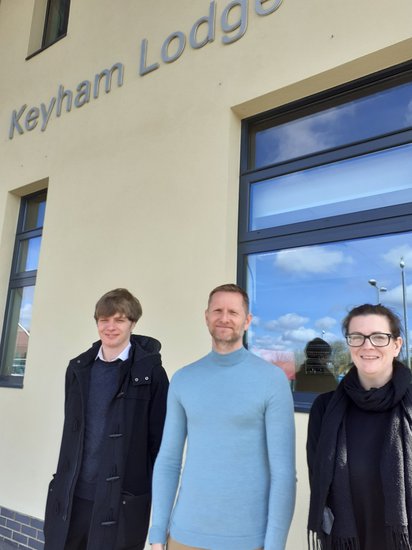 View larger
'I am pleased to have done it. A great experience where I learned something too. Great to be able represent my employer, who does care about the community and doing something positive to help.'

The best thing about it:

'It was good to talk to young people from a different kind of school.'

'…with it being a small event you had time to spend with the young person.'

'Meeting the students and for them sharing their passions and future hopes.'

Volunteers from business
I hope the volunteers were able to see, if they'd not been to a school like Keyham before, how much our young people benefit from these things and that they help build confidence that many of our children don't have.

Sarie-Marais Crowcroft, Careers Lead, Keyham Lodge School
If you would like to take part in an interview technique event or other employability event run by Leicestershire Cares, please contact us at interviewtechnique@leicestershirecares.co.uk or for events in Special schools please contact fiona@leicestershirecares.co.uk