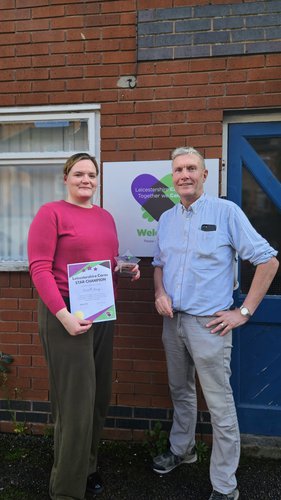 View larger
We were delighted to present Danielle Young from Nelsons Solicitors with our Star Business Champion award at our October Champions award. In presenting the award Kieran Breen our CEO shared all our champions do and excellent job but:
Since becoming the champion at Nelsons, Danielle, has consistently shown creativity and commitment to energising her colleagues to volunteer. She has also shown time and time again, she is willing to step up and support our projects and in doing so has been a real inspiration to all

Kieran Breen CEO Leicestershire Cares
Accepting the award, Danielle told the participants.
It is a real pleasure partnering with Leicestershire Cares and a real honour for me and my wonderful colleagues to have our efforts recognised and I now need to ensure we keep on delivering
The success of much of our work is down to the tremendous input our business volunteers make and we know through experience having a committed and creative champion in a company really makes a difference. So it is reassuring to know we have committed Champions like Danielle to rely on.
For more information on how your business can partner with us to support young people and community groups https://www.leicestershirecares.co.uk/get-help/get-businesses/