Introduction
The last year has been very successful for our leaving care work. In total, we have supported 75 care experienced young people through our Voices, Joining Up, Joining In and Powering Up projects. While our Voices project came to an end, we were successful in securing three years additional funding from the Esmee Fairbairn Foundation for our new Powering Up Project, which started in April. In addition, we have improving cross-project working with our youth justice offer through Joining Up, Joining In, which supports young people who have experience of the care and criminal justice systems.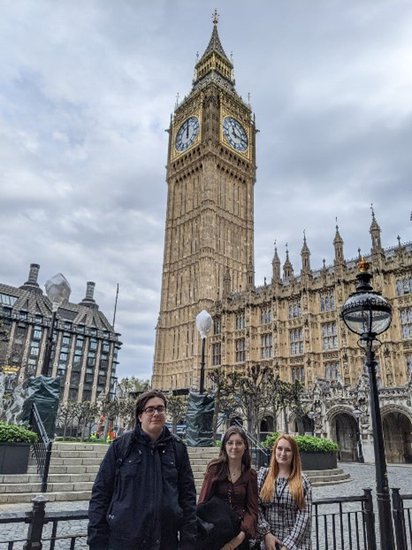 key successes
The project and team have worked hard to build positive relationships with external stakeholders and young people, with person-centred practice at the heart of its delivery. Through our projects, we have delivered a range of activities from music workshops and sports sessions to employability workshops and drug awareness sessions.
The aim of this holistic approach was to improve young people's confidence, develop aspirations and uncover individual passions. This in turn has led to many positive outcomes including a residential trip, employment opportunities, improved wellbeing, voice and participation projects influencing change to current government policy and the development of many soft and hard skills amongst participants.
Our key successes include:
We have worked with around 75 young people over the last year, including young people who have left care, young people in residential homes and foster care, and unaccompanied asylum seeking young people.
We have supported 46 young people to get into or stay in education, training or employment.
One young person took part in a week's work experience with our team and delivered training on CEYP to Leicester College staff
One young person is employed through the kickstart programme with LCFC in the community and accessing weekly creative mentoring sessions - https://youtu.be/9weyOGweuPA
We have delivered weekly activities and sessions aimed at improving a range of outcomes for young people, including a residential, football sessions, Project Pony, Creative Arts, Chill and Chat sessions and social activities.
We have worked with our young people and partners to create many opportunities for young people to have their voices heard, including being on interview panels as part of our recruitment process, being on the local radio for Care Day 2022, taking part in the Midlands Hope Hack, and running a project to improve Universal Credit support for CEYP which has involved meeting MPs, directors of children's services and a visit to UK Parliament.
With our business members, we have delivered three work tours, many mock interviews and Total Motion provided transport to ensure one of our young people was able to have furniture in his new tenancy.
"Nobody has ever helped me as much as Leicestershire Cares."

Participant - Housing and Furniture
"I have enjoyed taking part in activities I have not tried before and also working as a team to complete the challenges."

Participant - Residential
Challenges
There have been challenges throughout the year often linked to the complex needs around trauma, mental health, housing, and finances for many of the care experienced young people we support. Our strong partnerships and referral pathways with local specialist support services have enabled us to get young people the support they need with these immediate issues.
Engaging young people in groups and keeping numbers consistent has been an ongoing challenge with the leaving care work. To improve this outcome, we are aiming to work with young people on a one-to-one basis or in smaller groups where they can develop positive relationships with peers and improve their confidence. The one-to-one work has been a positive avenue of engagement and is key for us when supporting our young people to participate in group work.
The complex needs of care experience young people can often make outcomes such as employment, training, and education more difficult to attain. We aim to offer a holistic and flexible way of working and understand that this pathway isn't as simple as often suggested. We are working with our young people to develop their skills, confidence, and trust in us as an organisation to make such outcomes both achievable and sustainable for them.
Opportunities
The recent Care Review and the recommendations it has made may have divided opinions in some quarters, but it has also brought a range of community organisations together as a collective. The Esmee Fairburn Foundation have been at the heart of this piece of work developing a range of workshops and webinar type sessions to discuss how as a collective we plan to work together to provide care leavers with the best opportunities. We engaged positively with the Review from the start and as a result were asked to share our experiences of contributing to its findings by the Esmee Fairbairn learning partners.
This opportunity to collaborate with organisations operating in the same sector for a similar purpose provides great opportunity for learning and reflection and will offer us great insight as an organisation to develop our own practices when supporting care experienced young people.
Priorities
For the coming year a key priority for our leaving care projects is to have more of a connection with the local community and the systems that currently operate around care experienced young people. As a team we are keen to get out there and work with leaving care teams across the city, supported living accommodations and residential settings so young care leavers are aware of who we are and how to get involved with our service at a younger age, breaking down some of the previous barriers to engagement
Another key priority is for us to offer greater support for care leavers who are soon to be mothers or those that have already had children. This group of young people are particularly isolated following the national and local lockdowns and have often disengaged from support. Prioritising this group could be an influential piece of work that could shape how services think and work with care experienced young mothers/families. Research indicates that there are range of factors that impact on this group, but the scrutiny often placed on care leavers who have children can be challenging and difficult to navigate without appropriate support systems in place.
Overall, we are looking to build on the positive work that has been established over the year and continue to build positive relationships with the community, partners and the young people we work with on a daily basis.
Case Study
AP is a 17-year-old who is looking to start his transition out of the residential home he currently lives and into independent living. AP was originally referred to us for budgeting skills and advice. However, since he has been working with LC, we have engaged AP in multiple activities which his residential home reported they had found difficult to achieve.
We have engaged AP in a range of life skills activities including budgeting and cooking in preparation for his independence. We have also supported AP to a create a CV, so he is ready to apply for jobs and opportunities. Unfortunately, AP did not finish college or engage with them towards the end. However, AP's engagement with LC will help ensure that he is able to find employment when he moves into independent living after he turns 18.
AP is soon to take part in a mock interview at LC in preparation for finding employment. AP will continue to engage with LC when moving into independent living and whilst looking for employment. Due to the current demand for housing AP is not currently expecting to move into independent living accommodation until October or November. However, LC will continue to support AP over the coming months and throughout his transition to ensure he has the stability to thrive.