The Powering Up project has delivered a weekly football session since the summer of 2022. The aim of this session was to use football as a vehicle to engage young people from a range of communities including those who are care experienced, and the asylum seeking and refugee community. The project has continued to grow and develop with the support of additional funding from Pathways East Midlands team and Hastings direct.
As part of the development of the project our aim was to provide opportunities linked to employment, education and training. We identified a core group of participants with a particular interest in sports and pursued opportunities to help them gain qualifications and skills within the industry. We sourced an opportunity to work with the Leicester Tigers foundation who were able to deliver a level 2 sports leadership award qualification and 5 participants successfully completed their qualification.
We felt it was important to empower some of the participants involved in our project to learn new skills and gain qualifications relating to their passions and interests. The course provided the group with an opportunity to learn new skills relating to sports leadership, coaching and inclusivity. For example, participants supported the delivery of sports activities for individuals with physical/learning disabilities. Furthermore, the group developed a greater insight in to the wider community and the history of Leicester Tigers.
The learning was shared across the week and the team at the Leicester Tigers foundation were able to learn about some of the barriers and challenges the young people we work with face on a day to day basis. This became apparent during the week with some of those involved being displaced and rehoused unexpectedly. There was also the opportunity for everyone involved to learn about each others cultures improving awareness and understanding.
An absolute pleasure to work with yourself and the group of students this week

Stephen Hunt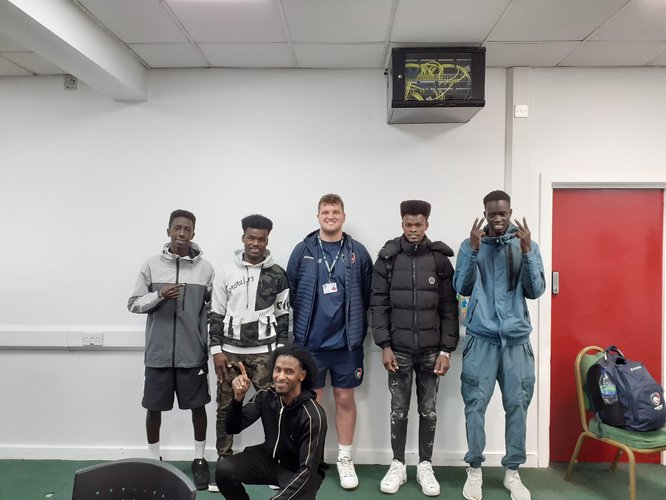 View larger
I just want to say a big thank you to Stephen for delivering the sports leadership award. Stephen was able to build positive relationships with the group and provided a range of opportunities across the week. The young people gained a good understanding of core leadership behaviour's and how to implement them.

Aidan - Project Development Manager
The plan is for our sports leaders to continue their development and gain further skills and qualifications within the sports sector. The aim is for this group to take a leading role within the project demonstrating the behaviours and skills they learnt whilst completing the qualification.