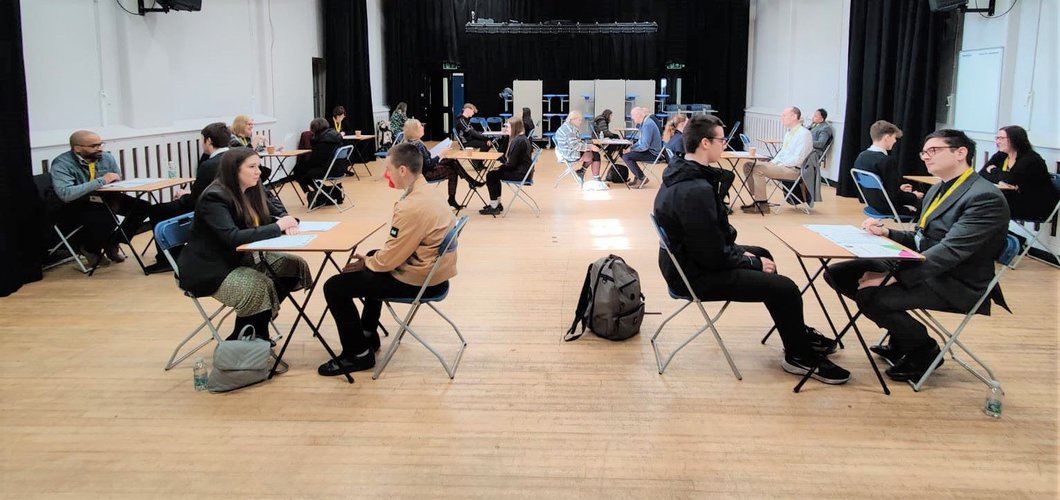 View larger
Leicestershire Cares has a proud reputation for linking the business sector with its surrounding communities including the schools of Leicester, Leicestershire and Rutland.
In recent years secondary schools have been required to develop and deliver a stable, dynamic and robust careers and employability plan against a curriculum known as The Gatsby Benchmarks. Although much of the programme is delivered, in house by careers leads, to truly bring the world of work to life schools welcome the help of Leicestershire Cares and our dynamic cohort of business volunteers.
We work with hundreds of volunteers across the breadth of the city and county and from a wide variety of business backgrounds. There are multiple benefits to be gained from young people interacting with "real life" employers and employees from inspiring that initial curiosity about a future career to practicing for that all important job interview. We know that young people learn best from pragmatic, real world experiences which can only be gained from those who are already working in the field.
To date, this academic year, we have welcomed 400 business volunteers to help deliver 64 employability and interview technique events to 11, 000 students in 22 schools.
It is clear to see the benefits of acquiring business volunteers for schools, but you may be asking yourself what is in it for the employee? Like many of our current members – businesses want to give back, they want to share their wealth of expertise with our communities and schools – but for the individual? What's in it for them? Why should they give up their busy work time to volunteer in a school?
The answer starts with a person's individual and altruistic desire to do good in their community. We meet many people who tell us about their own unique starts in life and the people who helped them, the "leg up" they were given and they simply want to "pay it forward"; for others it has the potential to be of use for their own career progression and to help them gain skills that will benefit both themselves and their organisation.
Hone those public speaking skills….
By volunteering for as little as 30 minutes at our employability events such as "Speedy Speakers" and "Guess my Job", we can help employees to boost their confidence in public speaking by providing a safe space in the form of 200 or so inquisitive 11- and 12-year-olds, many of whom will put you through your paces with a lively Q&A session – giving you a chance to think on your feet!
Recruit and select like a boss….
Many line managers will want to enhance their team's recruitment and selection skills but can often find opportunities lacking within their own organisation; by joining one of our interview skills (half day) sessions with Years 10 & 11 who are aged 14 - 17 individuals can hone their skills in questioning and giving feedback to up to 10 students in one morning.
Tap into the mind of the young people's workforce…..
As more businesses engage with school leavers and actively encourage apprentices into the workplace, older and more experienced staff may struggle to engage with the "youth workforce" of today. To fully understand their passions, aspirations and relationship with technology it can be beneficial for staff to utilise sessions such as interview skills to develop a dialogue they wouldn't necessarily be used to having and can make a real difference when working alongside young people in the future.
Network in real life…..
We have found ourselves emerging slowly from lockdowns and the presence work from home culture remains embedded in many of our working practices. Many younger and newer employees may find they have not had the networking opportunities that other, established employees would have. Our interview skills sessions give all volunteers the chance to network before, during coffee break and after the sessions, thus giving people the chance to make new connections and sharpen networking skills that are vital to succeed in the business world.
Get the feel-good factor….
Finally in terms of building confidence, improving wellbeing and getting that amazing feeling that you have made a difference that day - by volunteering with us you can see a real difference in your team. If your business or organisation allows employees to volunteer in the community as part of their working time – look no further than our education opportunities – and one of our students could not have said it better…
'Relax and don't worry, they're all nice people who want to help you''!
to find out more about our volunteering opportunities visit our school volunteering opportunities page