Whilst our volunteers are unable to attend Number Partners session in person, we sent out our popular Pirate Treasure hunt maths challenges to primary school children in Leicester and we're delighted to say that pupils from Queenmead Primary Academy smashed them once again!
We were hoping to restart our Number Partners scheme this year - with our specially trained business volunteers who would usually attend primary schools each week to play maths games with 7 – 9 year old children – however, volunteers weren't able to attend schools in person so we sent out our maths challenges to the new year groups.
Once again, Queensmead Primary Academy in Braunstone, Leicester, enjoyed taking part and won the challenges.
We loved the challenges!

A Year 4 Queensmead Primary Academy Pupil
We were so impressed with the children's answers and their wonderful pictures that accompanied them. All the children did very well, with high scores all round. We had three overall winners who scored 15/18. Everyone who participated also received a certificate and we're looking forward to presenting the school with a maths prize in the new year.
Thanks again for organising such an engaging, entertaining and original mathematical experience for our Year 4 children during these challenging times.

Assistant Principle, Mary Richards from Queensmead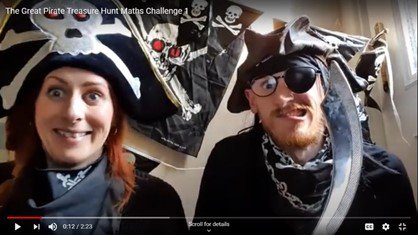 View larger
We'd also like to make a special mention to two of our volunteers from Hinckley and Rugby Building Society, Carla Loughrey and Evan Crosskey for their amazing pirates.
The children really enjoyed the Pirate Challenge and the introduction with the video and "real pirates" really motivated them and made it seem real. They loved this exciting way of doing Maths and how the different steps linked to get to the end.

Year 4 teacher, Queensmead Primary Academy
For more information on our education projects please contact Fiona@leicestershirecares.co.uk