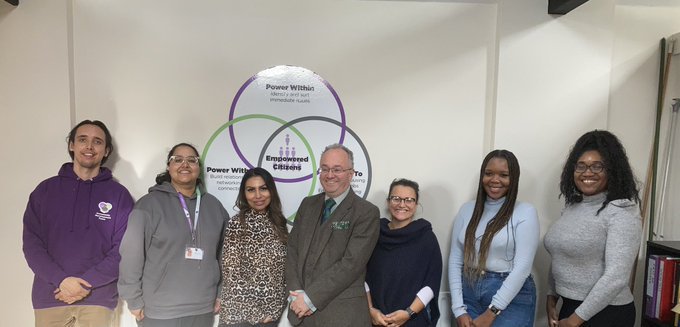 View larger
We were delighted to host a visit of Rupert Matthews, our Police and Crime Commissioner on Thursday 13th October to meet with members of our team to discuss community safety issue and challenges that the young people and community groups we work with face.
In a lively discussion with a cross section of our team members, staff shared concerns from young people and community groups about there being a lack of police presence in local neighbourhoods and how that stopped people being able to build relationships with the police. Although staff also shared that Acting Chief inspector Rob Dixon was respected, due to his efforts to get out and listen to community groups. Staff also raised concerns about the lack of secure housing and vulnerable young people being put in inadequate accommodation that could see them being coerced into crime. There was also concern that "the devil makes work for idle hands" and cuts and closures of youth provision meant young people were often hanging about with nothing to do and this could lead to some getting into trouble. The issues of drugs and county lines was also touched on and how important it is for schools, youth workers, community groups and police to partner together and share information. Whilst. there was a lot of emphasis put on the need of partnership working across agencies Rupert felt:
I am very pro partnership working but it can take a long time to develop and if there are things we know can help and we can do now, we should do them
Rupert shared, some of the challenges he faced in trying to meet local demands which are almost infinite, balancing a budget and ensuring the staff of the police force are well looked after, trained, and developed. For example, a real "issue" to consider was should a PC rotate around duties so they are professionally developed in a "rounded way" or allowed to work on one estate for years and years so they can build long standing community relationships.
It is always good to catch up with Rupert and it is good that he is coming to listen to our issues and concerns, and we look forward to continuing to partner with the PCC and VRN in the years ahead

Kieran Breen CEO Leicestershire Cares