Leicestershire Cares' Taking Hold of Our Heritage project features in the APPG for Looked After Children and Care Leavers Spotlight Inquiry Final Report, as a case study.
The Spotlight Inquiry heard from 300+ people with experience of the care system, of which 130 were care-experienced young people across England. The focus was 'community'. What makes young people feel part of the communities that matter to them? And how does the care system help and hinder them in feeling part of those communities?
Over the last few months the All-Party Parliamentary Group for looked after children and care leavers has been up and down England talking to as many people as possible about 'community' and what it means to care-experienced people as part of our Spotlight Inquiry.
In total over 300 people provided their views and over 130 of these were care-experienced young people themselves.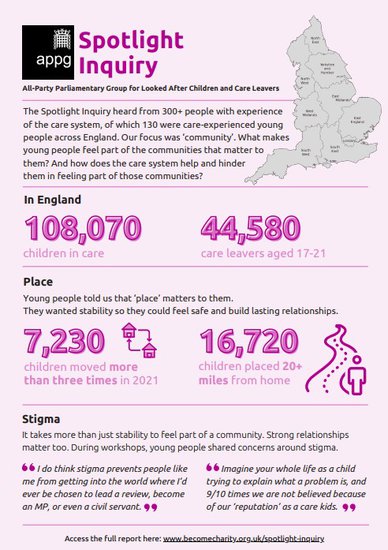 View larger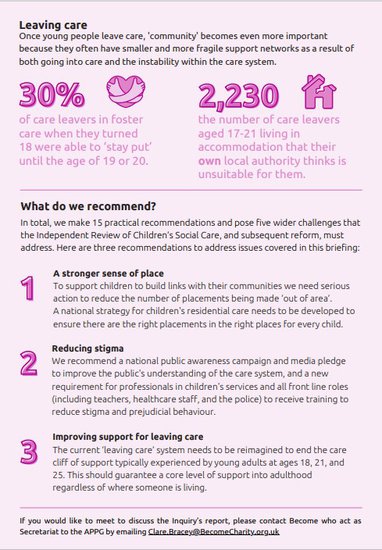 View larger
Key themes which emerged were around stability, stigma, community links, "corporate parenting" and the importance of relationships and place.
The final report is full with fantastic insights, case studies, quotes and importantly, recommendations about how to improve the care system in England so that every child in care feels part of the communities that matter to them. You can read about Leicestershire Cares on page 16.
The Spotlight Inquiry and this report were supported by Become, they hope that this report will be useful for parliamentarians to inform their own response to the Independent Review and subsequent reform of children's social care - thank you again for your contribution to this.
Download the final report
Our work with care experienced young people
For more information about our work with care experienced young people, please contact Jacob Brown: jacob@leicestershirecares.co.uk