Paul joined the WIRE Project in September 2019. He had been out of work for over 12 months and was looking for permanent employment. Paul had an interest in Engineering, having studied this subject at university a number of years ago, however his lack of work experience was proving to be a barrier when it came to applying for jobs.
Paul participated in one of our Employability Workshops and was matched with one of our member businesses, Terex Corporation. Terex Corporation is a global manufacturer of lifting and material processing products. Terex were really impressed with Paul when they interviewed him for an unpaid work placement. His knowledge about Engineering shone through, and he was given the opportunity to work on site to gain valuable experience within the manufacturing department.
Paul completed his work placement in October 2019 and Terex provided Paul with a glowing reference which outlined his hard work, commitment and professionalism. He was given guidance on what next steps he could take in order to get into the Engineering industry, and Paul said that he had thoroughly enjoyed the placement and felt it did wonders for his confidence, as well as gaining valuable skills and experience that would help him in the future. Paul was the first Wire participant that Terex had taken on placement, so this was a huge success all round.
Following this, Paul moved onto a placement on a construction site with Barratt Homes, during which he again demonstrated his enthusiasm and commitment to work. This paid off when Paul successfully completed a work trial and interview with Leicester City Council and was offered a full-time position in their grounds maintenance team.
Paul said, "The WIRE project has given me a great opportunity to explore new job avenues and gain experience with those different avenues to know if they suit me. It has also opened my eyes to how many people and companies want to help convicted criminals, so just because I have a conviction doesn't mean it's the end of my work career. Everyone working with the WIRE project has been so helpful… and I feel safe talking about anything to the staff. I would wish everyone seeking employment gains their help."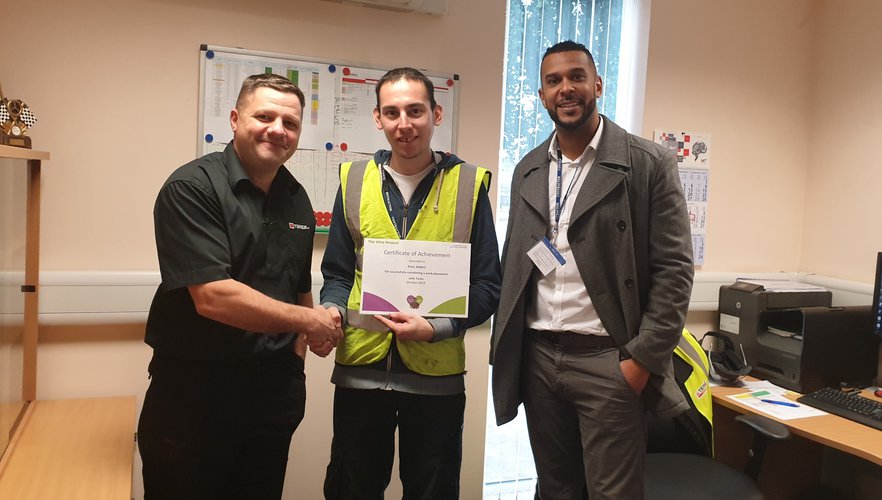 To find out more about the WIRE Project and how to get involved, contact:
Rudi Parra-Watson, WIRE Project Development Officer
T: 07748 932 386