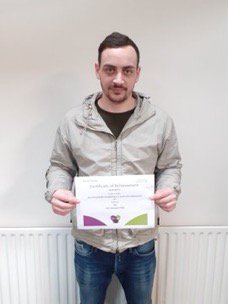 JM joined the UP Project in February 2020. He had been out of work for a long period of time and was looking for permanent employment. JM expressed an interest in labouring and gardening having had some previous experience in both roles prior to being passed a prison sentence. It was evident this experience had become a real barrier for JM when applying for jobs.
JM participated in one of our Employability Workshops, which has helped him to be more prepared for interviews and has given him more insight into job searching and how to succeed with job applications.
JM was then matched with Alisco, a small business with several building projects across Leicester and Leicestershire. Alisco offer permanent roles to those who successfully complete a work placement with them.
Alisco were so impressed with JM on his work placement that they offered him a full-time paid position after his first week. They also provided JM with a glowing reference which outlined his hard work, commitment and professionalism. He was given guidance on what next steps he could take in order to obtain his CSCS card and progress onto a construction site. JM said the placement has really helped his confidence and being offered to remain as an employee with Alisco is a brilliant opportunity.
The UP Project will continue to support JM to obtain his CSCS Card and support his housing needs.
I can't thank the project enough for all the help and support I have received. If it wasn't for the UP Project I wouldn't have a job and would still have zero confidence to apply for one either. I am now confident that I will continue to progress with a career in the building industry.

JM, UP Project Participant