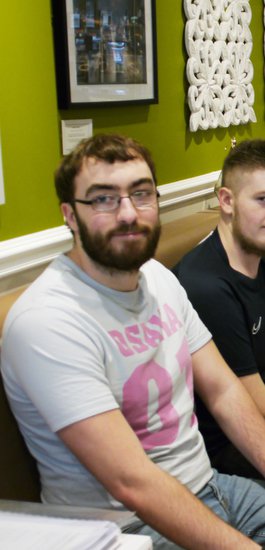 In November 2019 we signed up Oliver to the YES Project as he initially wanted to find employment. During the key worker meeting he disclosed that his autism has impacted his ability to find employment and make new friends. It was agreed that he would be eased into employment by attending group activities and events, in the hope that he will become more comfortable in group situations.

As a result, he agreed to attend Leicestershire Cares Christmas Party for Young People. This event was well attended and included group activities that would allow him to interact and meet new people. Despite being in an environment that was out of his comfort zone, he engaged in all group activities and really enjoyed the afternoon. Since this event, he has been keen to learn about and attend other group and social activities. This included the World of Work Tour at Lilu Restaurant, Healthy Eating and Zumba workshop with Samworth Brothers and the boxercise workshop with boxercise4health. It has been to great to see him grow in confidence and become more comfortable being in group situations.
Oliver is also a regular attendee to the Youth Leadership Group (YLG) run by YES. The YLG is a chance for young people on the project to shape the way YES is run and managed. The team meet fortnightly and for Oliver the rewards from attending have been great. Not only has he been able to meet new people and start new friendships, he`s developed key employability skills such as leadership, communication and teamwork.
Wanting to improve his confidence even further, Oliver participated in the Get Started with Boxfit programme run by The Prince`s Trust and WATERFRONT Sports and Education Academy. He spent five jam packed days improving his fitness and learning new boxing techniques. At the showcase event he led the warmup session and it was great to see him take and excel in a leadership role.
Oliver also regularly attends the Get Stuff Done Sessions at Leicestershire Cares where he receives employability support such as writing a CV. One of the great things about the YES Project is the partnerships we have with our other delivery partners, something which Oliver has taken full use of. He recently went to the Bangladesh Youth & Cultural Shomiti (BYCS) to receive expert careers advice.
Having more of an idea of the kind of career he wants we are looking forward to continuing our work with Oliver and help him move into employment as well as help him make life lasting friends.