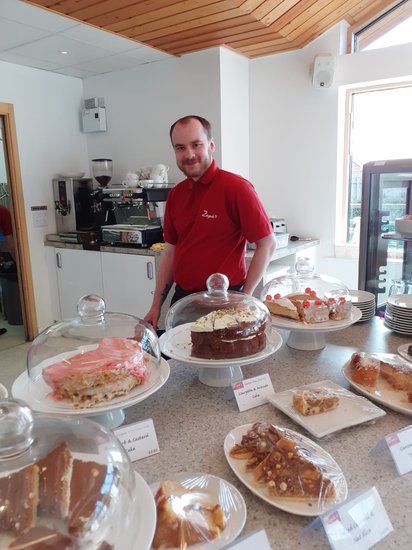 Following Martin's successful Barista training with 200 Degrees coffee shop in Nottingham, he discovered a new talent and passion. He wanted more experience in this industry to allow him to discover more about what this sector could offer.
Leicestershire Cares contacted a local café in Oadby called Zeph's who were more than happy to offer Martin some work experience. Zeph's is a community café, linked with the Trinity Methodist Church. It is warm and welcoming and at times, very, very busy!
In preparation for his work placement, Zeph's Jim Gannon requested to see his CV, invited Martin in for an induction chat before deciding to offer him a placement. It was clear from speaking with Jim that communication, a good work ethic and taking pride in providing for and helping others were qualities that he was looking for in an apprentice.
There were several challenges that Martin had to overcome: firstly, travel. It would take Martin around 40 minutes each day to get to the café on bus, so he worked out the bus timetables to ensure he got there on time. There was also a work dress code he needed to adhere to and Martin was prepared!
His tasks around the café included restocking drinks, cleaning tables, washing dishes, serving customers and even baking cakes. Whilst on placement, Martin had the opportunity to make an Elderflower cake and a coffee and walnut one.
He made an excellent impression on other volunteers, staff and his supervisors who all commented on his attitude and how hard working he was whilst on placement. Jim was particularly pleased with how he could see Martin change and in such a short time, "He settled in with our existing staff, enhancing himself by working hard and sharing the workload. It soon became evident that Martin was there to learn from others as the commercial café business demands a range of different skill set."
The café manager, Micheal Whitmore said, "Martin was very polite and willing to learn. He did anything I asked of him and I would definitely have him back at Zeph's".
Zeph's were amazingly supportive of Martin throughout the placement and were always understanding of his needs and requests.
Martin also gave very positive feedback following his work placement,
Zeph's café is a place I would recommend to anyone who is a customer but who is also a current/future employee or volunteer. The place has a very welcoming atmosphere for everyone and anyone who just wants a cuppa or a chat… I would definitely go back and visit in my own time.

Martin, Young Person
This experience will now enable Martin to feel much more confident as we support him with applying for barista jobs. He now has more experience with the necessary skills and qualities required for this role.
For more information offers of work placement to support our young people. Please contact:
Sonal Morjaria on the Leaving Care Project by emailing Sonal@leicestershirecares.co.uk