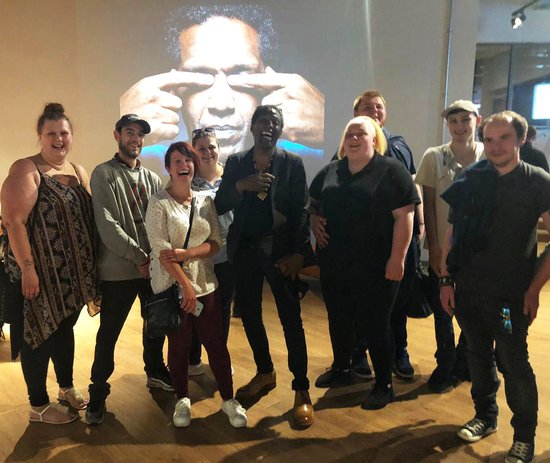 On 28 June, Leicestershire Cares took eight care experienced young people to the Metronome in Nottingham to see poet, writer and care leaver, Lemn Sissay, perform a dramatic reading of his one-man play, Something Dark. This highly acclaimed play tells the story of Lemn Sissay's upbringing in children's homes and foster care, and the search for his family and true identity.
Lemn's performance was powerful and moving, yet warm and funny at the same time. Our young people were really inspired from hearing someone talk about their experiences of the care system in front of a packed theatre. They got to speak to Lemn about their own experiences afterwards, and he took the time to have a photo with us at the end of the night, despite being exhausted from his performance! (see attached)
We will be building on this experience by co-developing creative projects with our young people which will help them get their views and experiences of the care system heard by local decision makers. Watch this space!
In recent months, we've also been working with our business members, care experienced young people, local partners, councils and virtual schools to develop our employer promise for care experienced young people. The Promise is now in its final stages of development and will be launched in the autumn. We'll share details of the launch as soon as they're available.
For more information on our VOICES Project for care experienced young people, contact Jacob Brown at Jacob@leicestershirecares.co.uk.