Project Information
The Unlocking Potential (UP) Project works with young people aged 16-25, who have committed a violence-related offence or are at risk of violent crime and offending. UP offers holistic support to address social, practical, economical, and emotional issues which prevent young people from accessing education, employment, or training.
We provide a high level of employability and disclosure support which provides young people with the advice, support and opportunities required to overcome any barriers and ultimately secure education, employment and/or training.
We work in partnership with local businesses to provide expert advice on getting into the world of work, mock interviews and mentored work placements.
---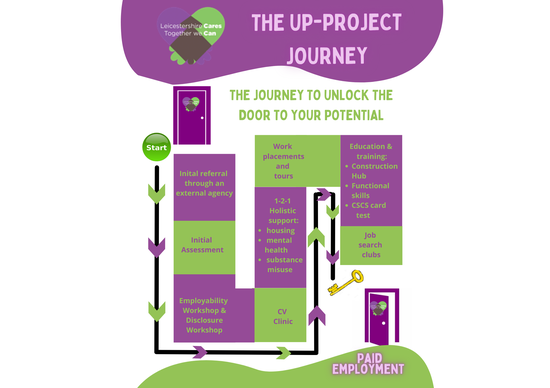 View larger
Project Outcomes
Unlocking Potential's key objective is to reduce re-offending, stigma and social isolation amongst our young people, whilst equipping them with the skills required to reintegrate back into Education, Training or Employment.
The UP-Project aims to help young people:
Get their immediate needs sorted through our partnerships with specialist agencies and services – e.g. housing and benefits, mental health and wellbeing, and substance misuse.
Build links with our businesses to help them gain the connections and experience they need to refine and achieve their goals.
Gain sustainable education, employment and training and therefore reduce the likelihood of them reoffending.
Criteria
To join young people MUST BE...
Identified as at RISK of violent crime/offending or have a violence-related conviction
Committed and motivated
Not want to re-offend
Have no drug or alcohol issues that affect their ability to engage in the programme
Be between 16 and 25 years old
---
Let us SUPPORT you to UNLOCK YOUR POTENTIAL!
---