Since the last newsletter went out, the YES Team have been busy supporting young people not in employment, education and training (NEET) overcome their barriers and move into EET.
Employability Programme
In September we launched our brand new 6-week employability programme for NEET young people. The programme included several activities and sessions in boosting confidence, CVs, job searching, interview preparation, mock interviews with business volunteers and careers talks by business members. Young people were able draw on the employment experiences of our business members to help guide and inspire them into work or training.
A special thank you to Lloyds Banking Group, Rock Kitchen Harris, Thermo Fisher Scientific, HRBS and Samworth Brothers for supporting the first programme. All young people found the programme useful and have grown in confidence when applying and searching for jobs.
In November we started running the second programme of the year, with Lloyds Banking Group facilitating the first session where young people explored their personal branding. If you would like to be involved in the delivery of this second programme please get in touch by emailing yes@leicestershirecares.co.uk.
I am learning a lot from the programme, it is really useful.

SN, YES Young Person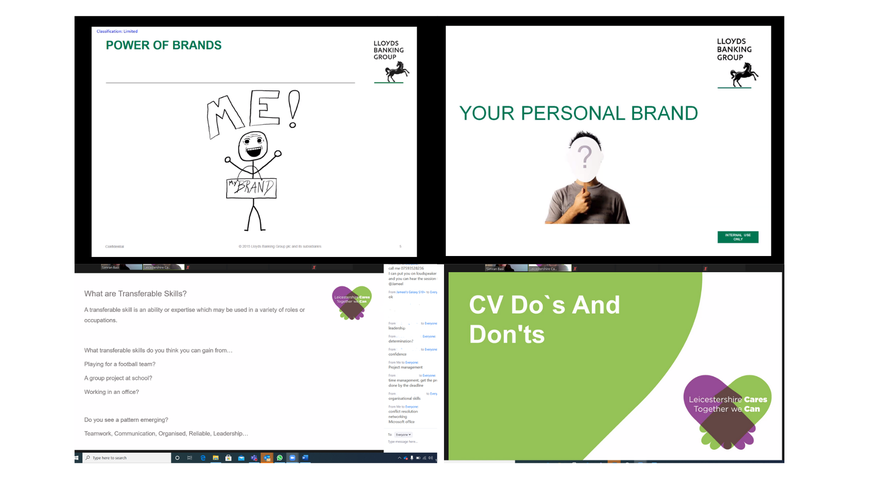 Online Webinars and Get Stuff Done
In November, the YES Project delivered an online webinar exploring how volunteering can boost employability skills. As a result of the pandemic, applying for jobs has been harder for young people. However, this webinar was able to encourage our young people that volunteering can help build relevant skills they need for a future job or gain significant transferable skills.

In August we launched Virtual "Get Stuff Done" which as the name suggests is a drop-in session for young people to get stuff done! Participants on the project can receive support from staff with CV`s, job applications, personal statements and much more.
1-2-1 Employability Sessions
In addition to the employability programme we offer 1-2-1 sessions with young people on the project.
CV`s and Cover Letters
We have been supporting young people create CV`s and cover letters virtually over zoom. They leave the sessions with a completed CV or cover letter which they then use and tailor for applications, as taught in the sessions. Some of Leicestershire Cares business volunteers have looked over participants CV`s and given them great feedback on how they can improve their CV and make a great first impression.
Mock Interviews
Many of our business volunteers have facilitated mock interviews with our young people, increasing participant confidence and self esteem as well as dishing out great career advice. We help young people prepare for the interview by delivering a 1-2-1 interview technique session.
She is a very impressive interview candidate – self-assured and articulate.

Emily Quinton, Thermo Fisher Scientific
Careers Advice
We have been helping young people access information to learn more about their chosen career path or helping young people find the industry or role they are most interested in.

For example, we ran a 1-2-1 session with a young person who has an aspiration of getting a job within STEM. The session was fun and informal and consisted of giving the young person four clues in which they must guess the role.

Personal Development Activities
Young people on the project have access to other Leicestershire Cares activities as well as workshops delivered by any of the YES Project delivery partners. This includes Wellbeing Workshops from Richmond Fellowship, Explore and Get Into Programmes at the Princes Trust and bespoke handmade art packs from Soft Touch Arts. We have been delivering art packs in modelling and Jewellery making to young people across the city and county.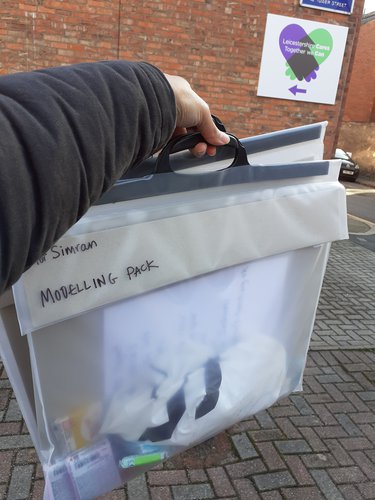 Requests
In the next coming months, we would like our business members to support us by:
Notifying us when entry level vacancies become available at your organisation that are suitable for NEET young people.
Supporting the delivery of our employability programmes or sessions. This includes delivering workshops, participating in mock interviews, career talks etc.
Delivering World of Work Tours – either virtually or in person (small groups).
Offering Work Placements.
If you would liked to be involved in the YES Project, please contact yes@leicestershirecares.co.uk
Some other good news….. We are happy to announce that that Ross and Simran are confirmed in post until February 2020!