Over the last few weeks we have been working with the business and community sector to distribute wellbeing bags to people and families who are in danger of being left behind. Thanks to the drive and determination of our community development team and the support of the national lottery community fund, we have been able to distribute over 600 plus bags across the city and county.
Every single one of these bags shows someone, who might be feeling forgotten and left behind, that the community cares, are there for them, and will not let them be left behind.

Neetu Squire, Head of Community Development
The bags have been distributed directly to individuals we support as well as through a wide range of city and county community groups. All of this builds on the work we do all year, developing partnerships between community, business and local government so nobody is left behind. As we move into the New Year we are keen to build on this and are working with strategic partners such as Reaching people , De Monfort University and the City council to try and systematise these relationships into creative and agile partnerships that tackle poverty and exclusion.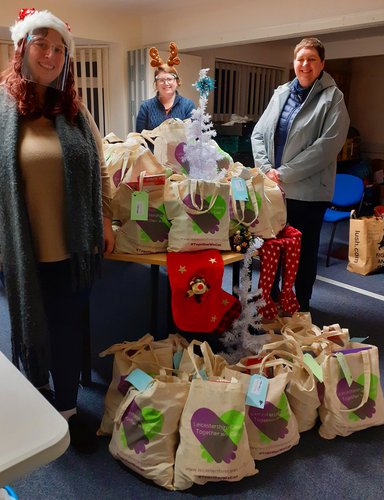 These wellbeing bags are a concrete manifestation of our #TogetherWeCan approach and each one we deliver helps turn despair into hope.

Kieran Breen, CEO Leicestershire Cares