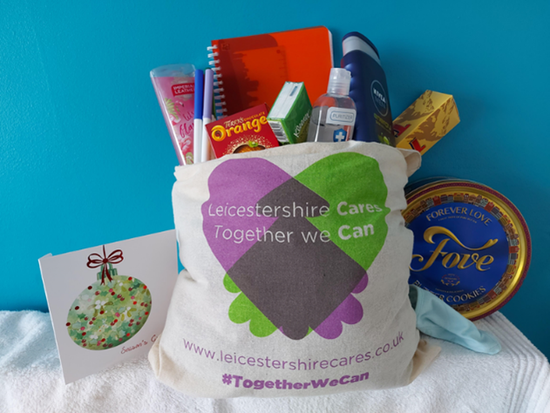 Our Collect 4 Christmas Campaign this year will collect and distribute care packages to local individuals that have been adversely affected by the Covid pandemic. We are partnering with a range of voluntary and community organisations to distribute the packages to individuals who may be lonely and isolated, suffering financially, in need of wellbeing support and at risk of homelessness.
We are asking our member businesses and their employees to either collect donations from their staff, family and friends to create their own care packages or where this isn't possible due to offices being closed and staff working from home, to fundraise and donate money that our Community Development Team will use to create the packages.
A typical care package may contain a journal, diary or adult colouring book, edible festive goodies such as chocolates or biscuits, a small jigsaw or game, toiletries, hand sanitiser and a face mask.
Want to dontate for Collect 4 Christmas? Click the button below.
Carers and those living with dementia have felt particularly isolated as a result of Covid and the lack of day care due to current government restrictions. Any well-being packages are so welcomed.

Yvonne Rawlings, Rutland Development Worker, Age UK Leicester Shire & Rutland
This is the 20th Collect for Christmas campaign we have organised and since the annual initiative was launched, we have collected and distributed over £355,000 worth of items supporting local individuals and families during the festive season. With the additional strains on many people this year, we felt the most obvious group to support was those affected by the Covid pandemic.
Now more than ever we need business, community and local government to work together so nobody is left behind. Which is why we are asking our friends in the business sector to support our Collect 4 Christmas campaign so we can share some hope and inspiration to people in need across our city and county.

Kieran Breen, CEO, Leicestershire Cares

If you or your business would like to support this campaign, contact teamchallenges@leicestershirecares.co.uk or call 07843 350124 for an information pack.
If you want to donate to our Collect 4 Christmas Campaign clickthe button below.