Please find the article featured in the Leicester Mercury here: The Together Project Leicester Mercury
Leicestershire Cares is pleased to announce being awarded £73,340 from National Lottery community fund for our "Together project". The project will broker partnerships between business, community and local government across the city and county so that nobody is left behind. The project will build on a bedrock of existing good practice and will seek to support 20 community groups a year who are supporting isolated and vulnerable people. This will vary from lending a practical helping hand such as carrying out DIY and gardening activities to participating in social events to providing training, coaching and mentoring.
Their first event took place on the 16th of July when business member CS Ellis Group Limited a warehousing and logistics company based in Oakham hosted a group of isolated elders from Oakham and Rutland at their newly acquired wellies Café at Rutland Water Garden Nursery. The group took part in a session with a master gardener, afternoon tea and fun activities including a quiz.
Derek an 82 year old man who suffers from dementia, who served in the RAF for 29 years shared "I have forgotten all the name of flowers so this quiz is good reminder for me, the colours and smells helped me remember names of plants I once enjoyed."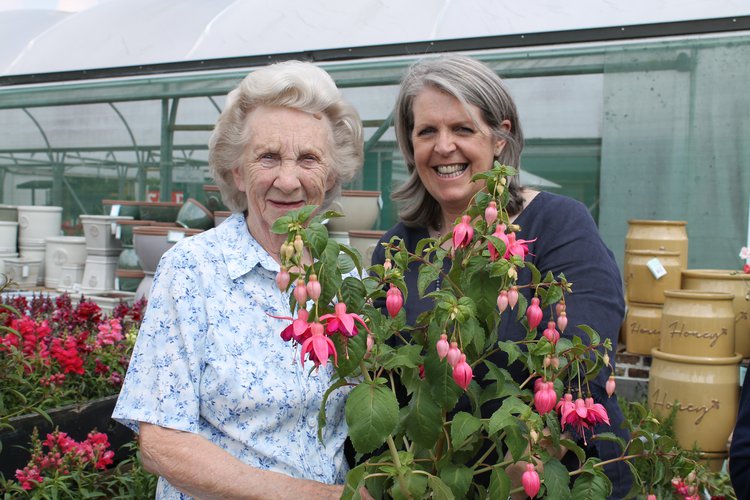 CS Ellis Group who have hosted Age UK groups at Christmas for festive fun, carol singing and traditional Christmas Food were excited to extend their offer. Laura Kingzett (PA to CEO) said 'I thought the afternoon was great and it was lovely to see them all getting involved with the planting of the cyclamen and also getting their teeth into the plant quiz afterwards, they were all very competitive.'
Laura thoroughly enjoys meeting these groups and will be going forward for a befriending role with an isolated lady who doesn't have much family around. They have now met twice and would like to continue the friendship.
Raheema Caratella who is leading on the "Together project " for Leicestershire Cares said "it is great the community fund has backed this much needed initiative, there is so much that can be achieved when business, community and local government work together"
The new funding from The National Lottery Community Fund, which distributes money raised by National Lottery players for good causes and is the largest community funder in the UK, will see at least 20 of these events take place a year as well as skills sharing sessions strengthening the community with business support.
Contact: Raheema Caratella | Email: raheema@leicestershirecares.co.uk
Pictures are available upon request.
Notes to Editors:
About The National Lottery Community Fund We are the largest community funder in the UK – we're proud to award money raised by National Lottery players to communities across England, Scotland, Wales and Northern Ireland. Since June 2004, we have made over 200,000 grants and awarded over £9 billion to projects that have benefited millions of people.
We are passionate about funding great ideas that matter to communities and make a difference to people's lives. At the heart of everything we do is the belief that when people are in the lead, communities thrive. Thanks to the support of National Lottery players, our funding is open to everyone. We're privileged to be able to work with the smallest of local groups right up to UK-wide charities, enabling people and communities to bring their ambitions to life.