In February, we launched our Taking Hold of Our Heritage book. A co-authored and co-produced book by care experienced young people investigating the complex nature identity, heritage place and community for care experienced people.
Since then, the book has found itself being read in all corners of the world, from Adelaide, via New York to Zimbabwe, and some influential people have read our young people's words, including the Home Secretary, Head of Campaigns & Advocacy UNICEF and the Chair of the Independent Care Review for England.
The young people have been empowered by the feedback their book has received. Form foster parents, local councillors, heads of NGOs, safeguarding leads and the wider care experienced community.
You can read some of the feedback we have received below.
Feeding into their East Midlands/East of England evidence session
We will also be talking about the process behind the book at Become's Spotlight Inquiry from the All-Party Parliamentary Groups for Looked After Children and Care Leavers, which is exploring themes of care and community. We will be feeding into their East Midlands/East of England evidence session, hosted by Daisy Cooper MP, where we will be able to connect into the Inquiry's key themes around identity, heritage, place and community.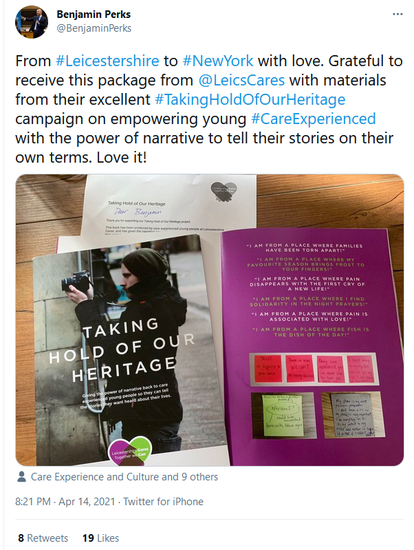 View larger
From #Leicestershire to #NewYork with love. Grateful to receive this package from @LeicsCares with materials from their excellent #TakingHoldOfOurHeritage campaign on empowering young #CareExperienced with power of narrative to tell their stories on their own terns. Love it!
Benjamin Perks Head of Campaigns & Advocacy at UNICEF
I'm an adoptive mum and I want the best for my child. Young care experienced people represent my daughter too. This book helps me know what these young people think and how they feel about their heritage and their situation. This book gives me the insight to be able to help my child the best I can. Young voices need to be heard! I have attended the Care Day celebration online and it was amazing. Thank you so much!

Adoptive Parent

View larger
I love it, the visuals &presentation are stunning, the stories are poignant, Lydia's crochet speaks to the importance of adoptive parents, Amber's story the importance of becoming a parent, Diana the determination to succeed when you are told you can't
Dr Dawn Mannay Dr Dawn Mannay, BA MSc PhD, Director of Postgraduate Studies, Reader in Social Sciences (Psychology)
The Discovered Heritage of Care Experienced Young People Blog post from BoingBoing
Louise is the coproduction coordinator for Boingboing. She has lived experienced of being in care, so is particularly passionate regarding the emotional wellbeing of CYP in and leaving care. Here, Louise talks about 'Taking Hold of our Heritage', the current statistics for the care system in the UK, and potential disruptions to changing the system.
More about Taking Hold of Our Heritage
This book project gave the narrative power back to care experienced young people so they can tell the stories they want heard about their lives. Care experienced young people are often required to talk about their traumatic past to professionals, support services and sometimes their peers. Telling the same stories over and over again can start to imprint on their identity and heritage. Young people in care often move several times which can result in photographs and family keepsakes being misplaced and lost.
This project aimed to encourage care experienced young people to reflect on positive memories to change the narrative they tell about their lives, and recreate their own heritage artefacts. In this book, care experienced young people have investigated the complex nature of their identity through this project and produced an archive of artefacts including oral histories, art and photovoice.
The young people have investigated the memories and experiences of Leicestershire's leaving care community, by looking at themselves, but also interviewing and documenting other care experienced young people's lives.
Get a digital download of the Taking Hold of Our Heritage book here
Our work with care experienced young people
For more information about our work with care experienced young people, please contactJacob Brown: jacob@leicestershirecares.co.uk