Last week, the government announced their new strategy to tackle rising rates of obesity amongst adults and children. The strategy introduced a raft of measures aimed at encouraging the nation to lose weight, get fit and eat better.
At Leicestershire Cares, we are aware of the links between poverty and unhealthy eating, which has been exacerbated by Covid19. To help tackle this, throughout the lockdown we have been running online cook-a-long sessions with our young people to help them improve their cooking skills, learn new recipes and eat healthily.
Quarantine Cooks has run for 10 weeks during the national and local lockdown, with over 70 young people taking part. The intention behind Quarantine Cooks was for our participants to experience hosting their own cooking session, expressing their own ideas on what they would love to share and to also learn how to cook their favourite foods the healthy way. Ingredients were bought each week and dropped off to them to ensure everyone could get involved.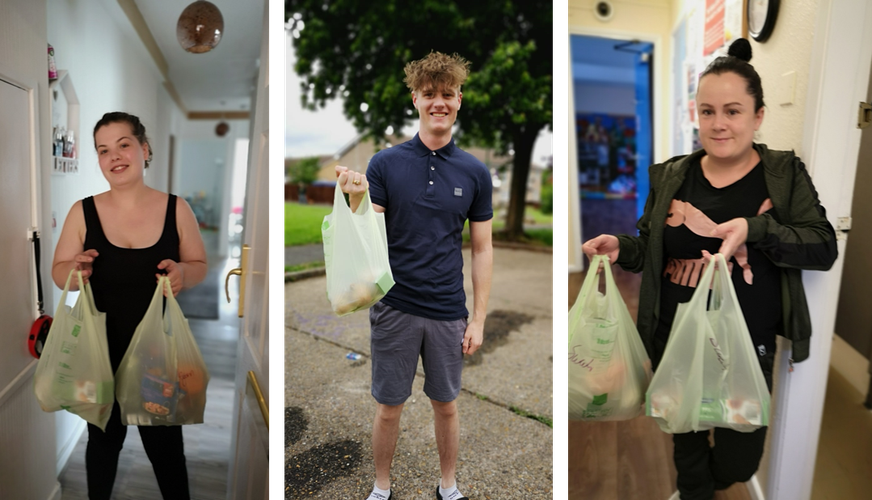 Since the start we have made Mexican quesadillas, potato curry and fresh naan, Victoria sponge cake, lasagne, prawn stir fry, and much more. It was also a great opportunity for our business members to share skills and support young people in a new way: a big thanks to Tina from Thermo Fisher and Jennifer from Everards for joining the sessions and cooking along with us.

Healthy cooking was so vital through the pandemic due to loneliness, isolation issues and depression. The feedback has been amazingly positive and participants said it was something they looked forward to each week through the lockdown. Cooking with other young people and staff gave participants a new skill to learn, enabling them to socialise, learn a new hobby and a skill for life, instead of resorting to take always or junk food to get them through these uncertain times. Also budgeting skills were taught, showing how you can make these dishes cheaper than buying them ready made, saving them money too! This brought independent skills, a passion to learn something new, to shop and cook again, and to buy ingredients they would not normally purchase. Confidence and self esteem increased each week which of course helped participants who were suffering from any sort of mental health issues.
"I have saved so much money not buying microwave meals and getting rid of my fear of feeling I can't cook. Thank you!"
"It has boosted my confidence in cooking from scratch"
"I have lost some weight now that I am cooking for myself. Thank you, I have a new hobby!"
To encourage participants to build on their newfound passion for cooking healthy nutritious meals, we gave graduation cooking packs with a variety of different cooking utensils for them to continue their journey.

Not forgetting the little ones, we hosted another cooking session called 'quarantine baby cooks' which enabled our participants who have young children to cook as a family and to teach the skill of healthy cooking early, ensuring your 5 a day was implemented in a creative way.

These has been very popular and well attended group sessions alongside staff, community organisations and a few business members too. It has been a fantastic learning opportunity for staff and young people to learn new recipes together and have fun. We collaborated with the leaving care team within Leicestershire Cares and other projects to enable to get more participants involved. These sessions have no doubt boosted the morale of our young people during this challenging pandemic.
"It's the only thing I look forward to every week"
"I love how we are able to host our own session and make the choices on what we want to cook giving us the freedom to make these choices and empowering us to take ownership of this"
"It was the best thing I have ever done for myself and my family through the lockdown"