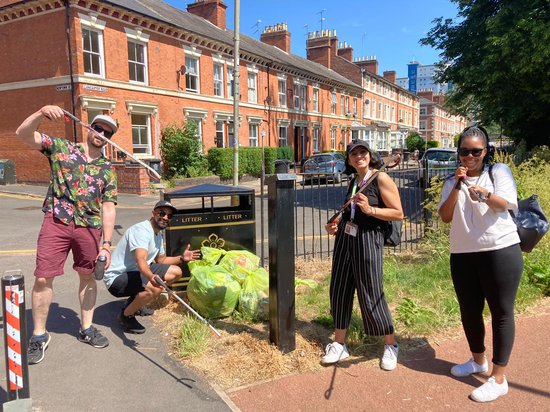 View larger
This week a team of eco warriors at Leicestershire Cares went litter picking at Nelson Mandela Park, in Leicester City Centre. The event was organised by the environmental working group at Leicestershire Cares and gave staff the opportunity to contribute to making the city cleaner and joy to all. The event was also part of the #30dayswild challenge by the Wildlife National Trust, where staff must do one wild thing a day.
The event made a lovely change to home working and was a great opportunity to enjoy the sunshine and catch up with colleagues. Everyone had a great time picking litter and it was great for our wellbeing as some found it very therapeutic.
A big thank you to Penny, at the Leicester Environmental Volunteer Team at Leicester City Council for helping us organise the event. If you would like to volunteer and make a positive difference to the green spaces in your local area, you can find more information here.
In total 5 bags of litter was collected and staff had picked a variety of items including masks, rubber gloves, aluminium cans and sweet wrappers. Litter is ugly, it ruins our green spaces and is harmful to the environment, wildlife and health. When litter is removed, it does not only help ecosystems but creates a better space for people too! Picking litter is everyone`s responsibility and we can all do our part in keeping our spaces cleaner.
Thank you to all park staff and volunteers who already keep our green spaces lovely and clean.