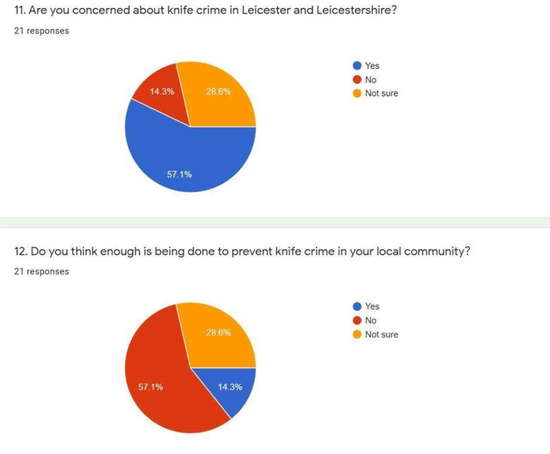 Our Community Safety Team believe more work needs to be in local communities in order to tackle knife crime. Not only here in Leicester and Leicestershire, but the UK as whole has been experiencing higher levels of knife related crimes. We believe that we have a responsibility as a community to acknowledge there is an issue, and more importantly to act, and raise discussions around why so many of these knife related incidents are happening.
To help start these discussions, we decided to explore our participants' experiences of knife crime. We set up an independent survey and sent it out our young people and participants to see what their views were on knife crime. The survey was complete by 21 participants that live in Leicester and Leicestershire and found that:
Two-thirds knew someone who had carried a knife
Almost 1 in 4 people said they had previously carried a knife and over a third said they had considered carrying
The most common reason cited for considering carrying a knife was self-defence
Over a quarter said they had been a victim of knife crime
57% said they were concerned about the levels of knife crime in Leicester and Leicestershire, but the same proportion felt that not enough was being done about it
Everybody should feel safe within their communities, and our feedback suggests that many young people do not feel safe, to the point they consider carrying a knife for protection. With the right opportunities, young people are a resource and not a problem, as they can be part of the solution. With this in mind, we will be working with our participants on knife crime, and with their input, we hope to be able to identify and create ways to help tackle the issue.
See full Knife Crime appraisal here: Knife Crime appraisal