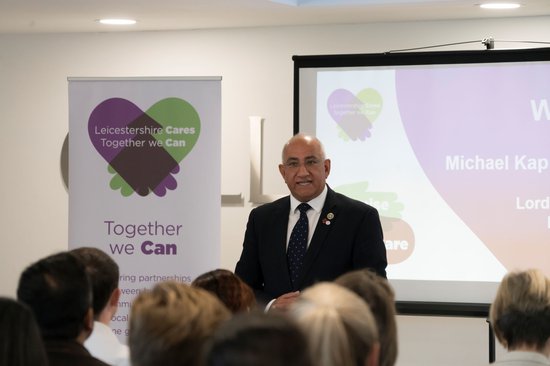 On Thursday 31 October, Leicestershire Cares launched the Promise to Care to a packed audience at the King Power Stadium. The Promise is a new initiative to encourage businesses to support looked after children and care leavers in Leicester, Leicestershire and Rutland.
The launch event was opened by the Lord-Lieutenant of Leicestershire, Mr Michael Kapur, who spoke about the importance of supporting care leavers and initiatives such as the Promise, in order for businesses to establish and develop customer loyalty and trust.
Delegates then heard from two businesses about why they planned to sign up to the Promise and the work they already do to support care leavers to access, stay in and progress in employment.
'We want to provide care leavers with stability. This might be helping them with setting up bank accounts, as it can be hard if you have moved address a lot, or supporting them getting to work.'
Alex Perkins, Amazon Workforce Engagement Program Officer.
'Sustainability is a current buzz word. In 2015 ,the UN set its sustainable development goals... some of those goals relate to employment, poverty and equality. By supporting the Promise to Care you are supporting those UN goals. As businesses, we are being challenged by our customers to be sustainable and they want proof and data. By supporting these young people you are doing that. Provide the right framework, and you can foster and develop care leavers to thrive.'
Emily Quinton, Manager European Events and Communications, Thermo Fisher Scientific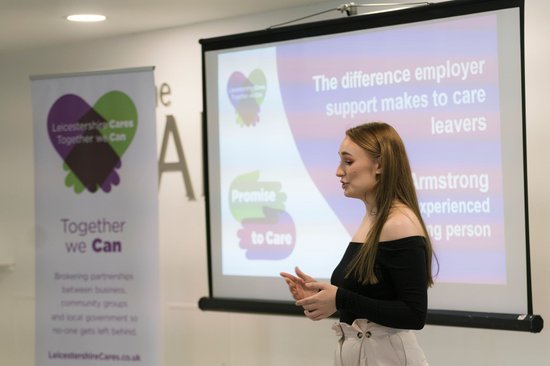 The real stars of the event were the care experienced young people who shared their stories of being in care and finding work. A group of Leicestershire Cares' young people worked together to develop a video and we heard from Casey who spoke about the challenges she had faced when speaking to employers about her support needs.
The event ended on a positive note with Dylan, an apprentice from Leicestershire County Council, talking about the positive difference his apprenticeship had made to his life.
'Care leavers are pretty much normal people. They want to do well like everyone else. Businesses don't have to change too much, just be a bit more flexible with work times, and maybe help out with transport to placements.'
Dylan – Care Leaver apprentice at Leicestershire County Council
Following the event, delegates were invited to sign up to the Promise and commit to supporting local care experienced young people. We received commitments from a wide range of businesses and will be working closely with these companies to help them fulfil their pledges to care leavers in the coming months.
To sign up to the Promise, complete our short online form and a member of our care leaver team will contact you about your offer.
For more information about the Promise, please contact Jacob at Jacob@leicestershirecares.co.uk.