We are delighted that we are once again able to deliver a series of speaker webinars that were popular with schools, students, and businesses during the initial lockdown in March 2020.
The webinars involve volunteers from our member businesses speaking for 5-10 minutes about their role, the company they work for and the career path they took.
The first of our webinars featured Emily and Helen from Thermo Fisher Scientific talking to students at The City of Leicester College about their job roles whilst giving sound advice about dealing with rejection and being resilient. Ro Redhead, who is an independent volunteer, advised students that they should seize opportunities that come their way as this may lead them to a career that they hadn't foreseen they would be good at and enjoy.
In addition, Nick from Joules and Kate from Access Generation delivered an informative webinar on interview technique where they were able to inform students on interview preparation and interview performance.
Both business volunteers were happy to answer student questions about their experience of a remote interview and what questions were good to ask an employer.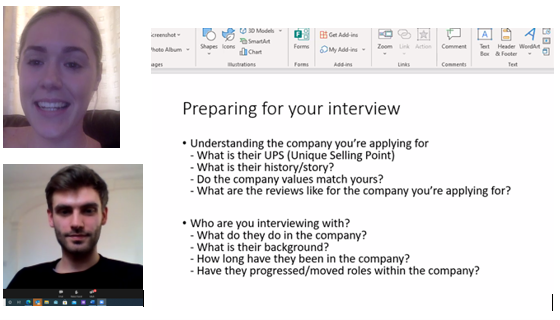 Student feedback
'It was actually fabulous, and I realised I wasn't the only one struggling with what I want to be. There are others who have been through that phase but have actually emerged successful.'
'The speaker was very informative, and I enjoyed hearing about her journey especially how she struggled with her career choices.'
Business volunteer feedback
'Leicestershire Cares continues to be inventive in finding ways to support school students in this difficult time. I am privileged to be involved.'
These webinars are now being offered to all Secondary schools across Leicester, Leicestershire and Rutland and will cover themes such as finance, construction, law and apprenticeships. If you are a schools or business volunteer who would like to get involved please contact helen@leicestershirecares.co.uk.