Last night, Leicestershire Cares was delighted to be recognised in two categories at the annual East Midlands Charity Awards. The awards recognise the huge contribution that charities make to the region. The ceremony, which would normally be run as an evening dinner, was held online and had over 150 attendees.
Leicestershire Cares was delighted that our Education Manager, Helen Treadwell, win the Volunteer Manager of the Year award. Helen works tirelessly to train, coordinate and support our business volunteers in schools, helping thousands of students each year to improve their maths, English and employability skills.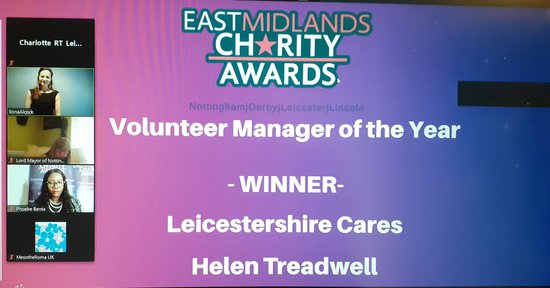 View larger
Leicestershire Cares was also highly commended for Charity of the Year, along with two other excellent regional charities.
Kieran Breen, Leicestershire Cares CEO, was also a finalist for Charity Director of the Year.
Congratulations to all the finalists, highly commended and of course winners from the night! And a huge thank you to East Midlands Charity Awards for organising an excellent online celebration of charitable organisations across the region.