On Thursday 28 January, Leicestershire Cares was invited to share its practice at a virtual ministerial roundtable with Children and Families Minister, Vicky Ford MP.
Organised by Esmee Fairbairn Foundation and Catch22, the roundtable aimed to offer practical solutions and experience from the voluntary sector to address the serious challenges facing care leavers' levels of unemployment arising from the Covid19 pandemic.
View larger
Leicestershire Cares shared our experience of working with care experienced young people to identify and address their barriers to meaningful and sustainable employment. In particular, we highlighted our key success factors as:
Having strong relationships with young people based on trust and placing them at the centre of our work
Effective partnerships with businesses who are committed to supporting our work and young people
Having a creative and agile team and approach which can respond to the needs of young people, businesses and the community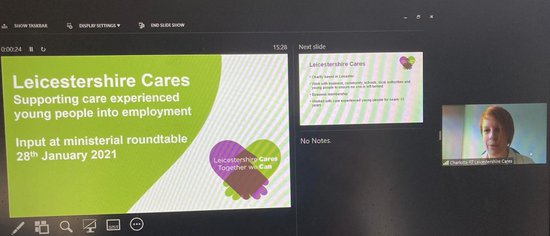 View larger
The event was a great success, with 30 attendees from organisations across England committing to taking action to support care leavers into employment. The Minister commented that our work with businesses was 'fantastic' and other attendees also exploring ways they could build on our successes.
We are looking forward to continuing to work with Esmee Fairbairn and Catch22 to implement the ideas developed in the session and ensure that we can #BuildBackBetter for care leavers across the country.
Get involved