Our business members and partners got creative to support local communities affected by Covid-19. Gift boxes, donations, money donations, and 'Together We Care' bag collections flew into our warehouse during November and early December. The massive effort of everyone involved shows real citizenship and commitment to our communities. It supports our belief that by actively seeking to work in partnership with community, business and local councils, we can bring about great change and make sure nobody is left behind. The impact of this years' Collect 4 Christmas campaign on the community has been impressive. It proves that being able to create solutions, strengthen relationships and go the extra mile can really work during these changing and uncertain times.
These well-being bags are a concrete manifestation of our #TogetherWeCan approach and each one we deliver helps turn despair into hope.

Kieran Breen, Leicestershire Cares CEO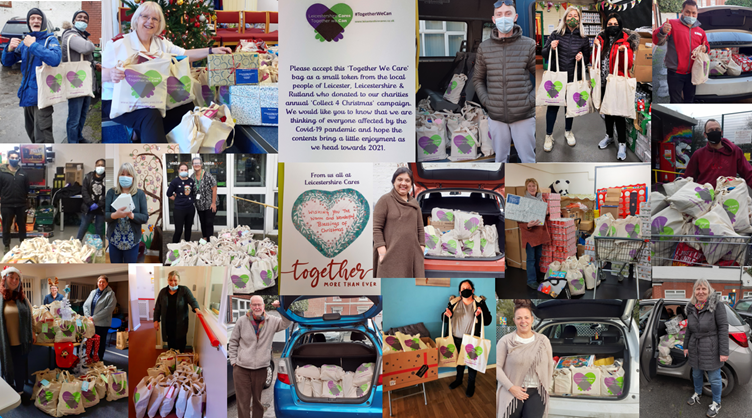 View larger
We supported 27 wonderful, local voluntary and community organisations. To do this we delivered 591 'Together We Care' bags along with 42 gift boxes, 60 vouchers, 10 hampers, 4 food bags and a large turkey over a 5-day period before Christmas. This means that well over 700 individuals and families benefitted from the C4C appeal. Converting all the donations into £ value, the final amount raised is nearly £15,000.
The oganisations supported were: The Centre Project, Age UK Oakham & Uppingham, B-Inspired, Leicester City of Sanctuary, Red Cross Leicester, Glebe Project in Shepshed & Loughborough, Hinckley Mencap, Zinthiya Trust, Fearon Community Association, New Parks APG, New Parks Hub, St Andrews Play Association, Mowmacre APG, Eyres Monsell Club for Young People, Highfields APG, Belgrave Playhouse, Goldhill APG, E2 Beaumont Leys, Braunstone APG, The Emerald Centre, Woodgate APG, Salvation Army Hinckley, Bridge View Melton, New Wycliffe Home for the Blind, Chataway Care Home, and Freedom Youth Project.
Just to say a huge thank you to you and your team at Leicestershire Cares for the goodie bags. We distributed them in the Chapel Garden, and people were delighted to receive them. We really appreciate all your help each year at Christmas.

Shali Bullough from Leicester City of Sanctuary
Wow what amazing gifts to give to our residents. The families were overwhelmed by the generosity of your charity and those who supported. It created a great buzz and brought much happiness to those who have felt real loneliness during the pandemic.

Jackie Payne from the Chataway Care Home in Whetstone
All the businesses, partners and supporting organisations that took part, need a big mention and a huge thank you. They are Alltruck, Ford & Slater, Walkers Deli & Sausage, Terex, TT Electronics, Thermofisher, Stepnell, De Montfort University, Cambridge & Counties Bank, Watches of Switzerland, Nylacast, Sytner Group, Hinckley & Rugby Building Society, Topps Tiles, Walker & Son, Office Depot, East Midlands Chamber of Commerce, Cobley Transport, Reaching People, University Hospitals Leicester, and Melton Building Society.