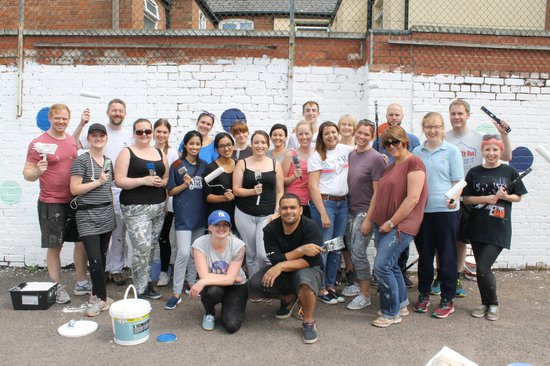 Volunteers from across the service arrived armed with brushes, paint and gardening equipment and set to work transforming Wesley Hall Community Centre.
By the end of the day, the team had given the centre's function room and antenatal room a much-needed lick of paint, cleared and tidied up the garden space and transformed the walls surrounding the children's play area with brightly-coloured murals.
Wesley Hall is a busy learning centre in Spinney Hills and Highfields, providing early years and mental health services as well as a host of community activities.
Ranjit Nainu, who volunteered to paint the centre's antenatal room, said: "I was so pleased that we were given the opportunity to swap a normal working day to give back to the local community. Having had a little one very recently, making a difference to the centre's antenatal room meant a lot to me. Antenatal classes and other support classes for new mums is so crucial, and it felt very rewarding to see that the room which was going to be used to provide this support looked so much more welcoming and inviting."
The day was organised through Leicestershire Cares, a local charity who work with businesses to develop opportunities for employees to volunteer their time to support various community projects, and was a great way for the service to work together as a team to support the local area.
Lara Burton spent the day refreshing the centre's outside space. She said:
It was a fantastic way for us to work together as a team and really rewarding to see the difference we were able to make in a relatively short space of time. The centre is right at the heart of the local community, and hopefully the improvements will have a positive impact for the children, residents and members of the public who use it.

Lara Burton
Another volunteer, Sam Parr, who works in the service's student development team, said:
I had a fantastic day volunteering with my co-workers (and discovering I was a bad painter!). There was a great sense of team spirit and by the end we could really see how we'd helped the hall. The best away day I've ever been on – I hope it continues next year!

Sam Parr
If you would like any more information about our community development initiatives and how to get involved, please contact Raheema Caratella – raheema@leicestershirecares.co.uk.