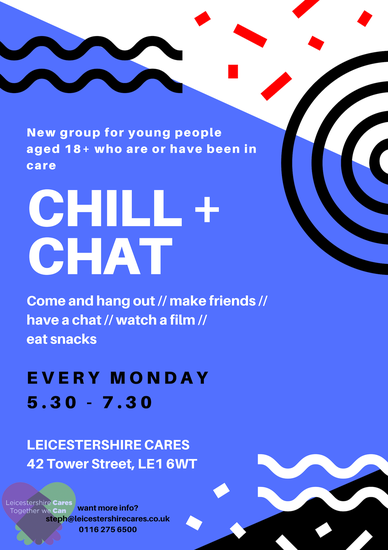 View larger
From Monday 4th March 2019, Leicestershire Cares will be running a new group for care-experienced young people (aged 18+) on Monday evenings. The group will be informal and provide opportunities for young people to socialise, relax and discuss their interests. Details are in the poster.
All care-experienced young people, care leavers, looked after children and unaccompanied asylum-seekers are welcome. Social workers, personal advisers, chaperones, carers and translators are also invited. We do not have creche facilities but participants are welcome to bring their children on the understanding that they will need to be supervised at all times. We will have light refreshments and snacks, and we have a good internet connection!
If you have any questions then please get in touch. We are happy to answer any questions you might have. The group will be in the Warehouse space at Leicestershire Cares, 42 Tower Street, LE1 6WT.
steph@leicestershirecares.co.uk – 0116 275 6500
john@leicestershirecares.co.uk – 0116 216 5007