---
With the start of 2021 seeing the reclosure of schools we have continued to deliver the live careers talk webinars that were popular with schools at the start of 2020. These occur every two weeks on a Thursday morning between 11am-12pm with each having a different theme.
Our most recent webinar had the title 'A career in Law' and we were joined by Sylvia and Kimbra from Knights plc. With Sylvia quite recently finishing her training to become a fully qualified lawyer and part of Kimbra's role being an employment judge, students got to hear about varied roles within the law sector.
Both speakers gave a 10 minute talk about their role and the path they took to get there. Both Sylvia and Kimbra gave students valuable hints and tips and shared important messages such as 'do what you love' and 'you don't always have to take the traditional route into a career in Law'. This live webinar was our most popular yet, with over 80 student joining at one time during the hour and asking live questions for our speakers to answer.
We received positive feedback from students:
'Hearing about the different routes into law was very interesting, specifically how you become a judge'.
'The advice about how to go about getting work experience was useful, thank you'.
'Being able to ask questions live and to hear the speakers answer your questions is great, thank you'.
Please see our list of future speedy speaker careers webinars. These include IT/ digital and apprenticeships. If you are a school and wish to be added to the mailing list to receive the invitation link please contact helen@leicestershirescares.co.uk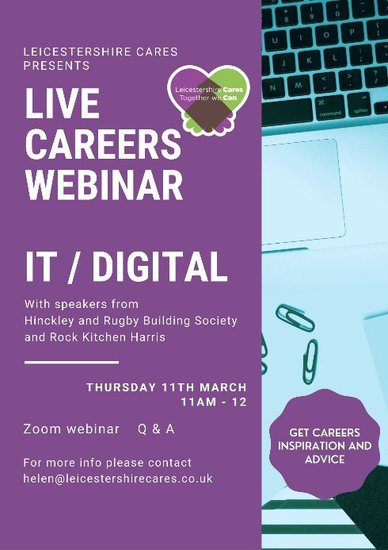 View larger