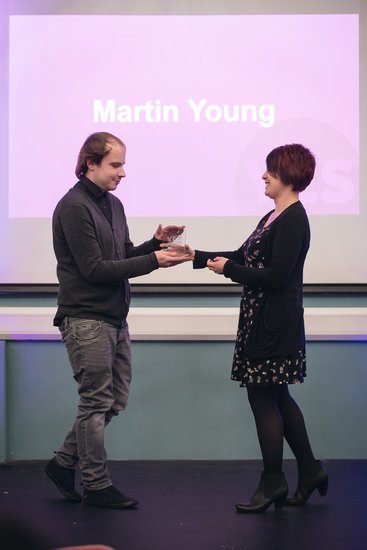 Leicestershire Cares was delighted to attend the YES Awards 2019 on Monday 18th February. This annual event celebrates the achievements of young people on the Youth Employability Support Project.
The YES project is a partnership of nine local organisations and charities that supports young people across Leicester and Leicestershire to overcome barriers and achieve their goals. Our Flying Fish project is one of the nine strands, supporting young people to gain work experience and find education, training and employment.
The YES Awards were a great success and we were very pleased to nominate Martin Young, one of our care experienced young people, for an award. Martin has been with our Flying Fish project, which provides specialist support for care experienced and other unemployed young people, for six months. When he started on the project, he had no confidence or direction. He had been on lots of different courses and programmes but with no real idea of where he wanted to go or what career he wanted to pursue.
Martin started on the YES Team programme to build his confidence. While on the programme, we helped him secure a work placement at HMV. Martin impressed them so much with his commitment, skills and attitude towards his work that they offered him a job at Christmas.
At the YES Awards, we celebrated Martin's achievement in moving out of his comfort zone, breaking out of the cycle he was stuck in and getting a job that he really enjoyed.
Martin said: "I want to give a massive thank you to Flying Fish/Leicestershire Cares for being the main driving force for getting me back on my feet."
The YES Project is funded by the European Social Fund and The National Lottery Community Fund. Find out more on the YES Project website.