As part of our work at Leicestershire Cares we aim to help bridge the gap between school and the workplace. Our interview technique project usually involves our partner schools inviting our member business volunteers into their schools to give mock interviews and valuable feedback to their students. As Covid-19 has put a stop to all visitors in schools we have launched a new remote interview technique event using a virtual platform.
Throughout October we have delivered 4 successful events with great feedback from all who have been involved.
Business volunteers
100% of business volunteers said they enjoyed the remote event with 100% rating it as good or excellent. 100% of volunteers rated Leicestershire Cares' organisation and delivery of the event as excellent with 100% saying that they were likely or very likely to recommend the event to a work colleague.
A very worthwhile and enjoyable event. All the students were well mannered and have goals although a little unsure of the future as a result of Covid-19. It was great to be able to put the students at ease.

Students
100% of students said they enjoyed the remote interview with 100% saying it was quite useful or very useful. 53% of students said that they feel a lot more confident for their next interview with 100% saying they are at least a little more confident.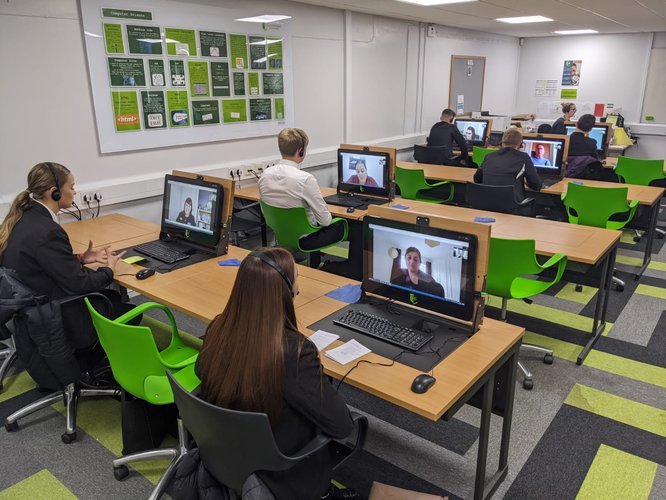 The businessperson who interviewed me was very nice and talkative. They were very supportive and gave me great feedback and confidence to improve my interview skills.

Student
Our students had an excellent day and you could feel the buzz in the room. Students went in incredibly nervous but came out with huge smiles on their faces and the confidence boost alone will be invaluable. Lutterworth High School would like to say a huge thank you for giving up your time to help our students on their journey in becoming confident young adults.

School
Our remote events would not have been successful if it wasn't for our committed business volunteers and the impeccable organisation skills from staff at both Lutterworth High and Madani Schools Federation. Faced with all the challenges that have been thrown at them during Covid-19, we are thankful that they could work collectively to give the students this invaluable experience.
Here are the dates for our next two events:
Friday 6th November, 8.30am-12.30pm - The Rushey Mead Academy
Wednesday 11th November, 8.45am-12.45pm - Brookvale Groby Learning Campus
If you are a school or business that would like to get involved with our employability projects please contact helen@leicestershirecares.co.uk
At Leicestershire Cares we are committed to being creative and agile and the wonderful response by our business volunteers and school partners is another example of this in action. Together We Can.

Helen Treadwell Education Development Officer